Meanwhile There Are Letters by Suzanne Marrs
Author:Suzanne Marrs , Date: August 5, 2020 ,Views: 299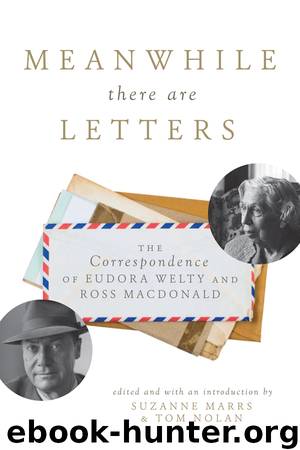 Author:Suzanne Marrs
Language: eng
Format: epub
Publisher: Arcade
Published: 2015-06-03T16:00:00+00:00



CHAPTER SIX
"I dreamed I was sending you the dream I was dreaming."
1976
THE imminent publication of Ross Macdonald's eighteenth Lew Archer novel, The Blue Hammer, had already been trumpeted in trade-paper ads by the house of Knopf, but Ken Millar was still hesitant to sign off on it. When the book's proofs arrived for correction early in 1976, he asked longtime Santa Barbara colleague Bill Gault (The Bloody Bokhara, Million Dollar Tramp, Thunder Road) to read and critique it. "I thought, 'Well, what do I know about this intellectual prose?'" Gault would say later. "So I took it home and read it, and some of the things—I just couldn't get the connection.[. . .] Certain things I didn't understand. Well, he didn't say anything. But when the book came out, the stuff I'd suggested he take out was sorta taken out."1 Millar dedicated The Blue Hammer to William Campbell Gault.
Kenneth Millar to Eudora Welty, January 9, 1976
Dear Eudora:
Please forgive my silence, which this note will barely break. I've been doing income tax, writing my Instant Enemy treatment, seeing it and M's new book ("Ask For Me Tomorrow") through the typist, etc. I think you'll like M's book: the plotting and the dialog are brilliant: and I'm so glad to have a book of hers after six silent years.2 It changes the whole atmosphere. Indeed it appears that I have nothing at all to complain of, so I won't.
My neighbor Ted Clymer came across the enclosed mention of you in PW, p. 14. It reminded me, though I don't need reminding, how lucky I am to know you. Santa Barbara misses you!
I'll try to say more in my next. This is just to remind you that I'm in the land of the living.
Love,
Ken
Eudora Welty to Kenneth Millar, January 12, 1976
Dear Ken,
Wasn't the mail service wonderful in Victorian days? I've been reading The Woman in White. You go downstairs and drop your letter in the post bag, and even allowing time for Count Fosco to open and copy it, it gets to London and the answer is back by next afternoon—by gig from the station, if it's urgent.
I'm glad you quietly continue to use your airmail envelopes, and believe they may do some good—How long does it take a letter from NY to reach you in Santa Barbara? To Jackson it's about 6 days—for a book, a month.
I was thinking of you through the holidays and hoping they were good with you—they must have been busy, with both of you in the midst of work. Along with wishing you and Margaret a happy New Year I was sending you my thanks again with a feeling I'll never lose for the happy visit there in the year just over—I was working here—on the reading committee for the Pulitzer in fiction, and I'd got desperately behind. Now that the 3 of us have gotten together (on the day after Xmas) we still don't know what the ultimate judges at Columbia will decide—Well, it caused me
Download


Copyright Disclaimer:
This site does not store any files on its server. We only index and link to content provided by other sites. Please contact the content providers to delete copyright contents if any and email us, we'll remove relevant links or contents immediately.