Matthew Shardlake - 03 - Sovereign by C.J. Sansom
Author:C.J. Sansom , Date: November 9, 2020 ,Views: 15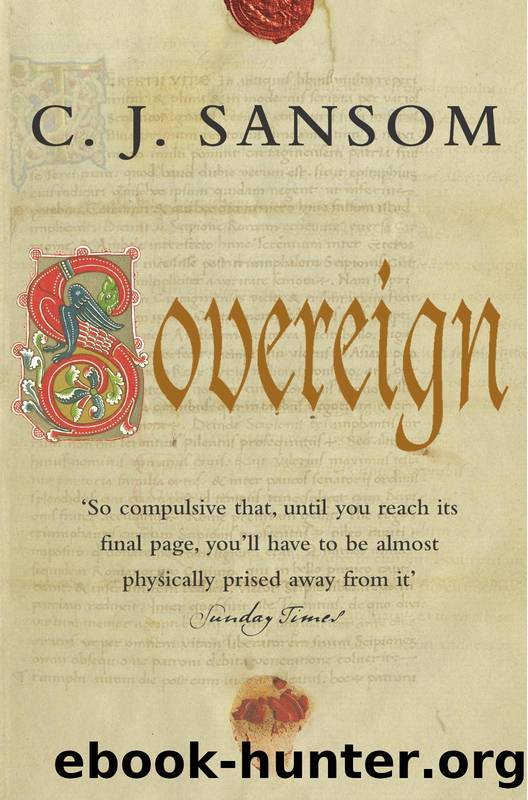 Author:C.J. Sansom
Language: eng
Format: mobi
Tags: Mystery
ISBN: 9780330480512
Publisher: Pan Macmillan
Published: 2010-05-01T03:00:00+00:00



WE WENT THROUGH TO the Minster precinct and down to Giles's house. He answered the door himself. He looked much better; there was colour in his cheeks again. He welcomed us into the solar where Madge sat by the fire ticking at some plain beads. Madge rose and bowed, then went to fetch some wine for us. Master Wrenne urged us to sit. The greyfalcon on its perch inclined its head at us.
'You look much better, sir,' I said.
He smiled. 'Thank you. My rest did me much good. And Dr Jibson's prescription eases my pain. How do you fare, Master Barak, did you see the King yesterday?' His manner was easy, he mentioned the King's name in a light tone.
'Yes, sir. When he entered the city. He is a man of great presence.' Barak looked at Giles a little uneasily; I guessed he had never encountered a man who was dying slowly before. But if Giles noticed he did not show it.
'Let none doubt the King has presence,' he agreed, nodding wisely.
Madge brought in the wine and a plate of little cakes. She seemed to avoid my eye, I wondered why. Giles took an appreciative swig from his goblet. 'Ah, good French wine, nothing better on a fine morning. And jumble cakes, help yourselves.' He smiled at us. 'Now, I have had a list from the steward's office of the petitioners who will present themselves at the castle tomorrow. It will be the first of two hearings.'
'You are sure you feel well enough to preside?' I asked him.
'Quite sure.' He nodded emphatically. 'They are mostly simple enough matters.'
'What if the parties refuse to accept our arbitration?'
He smiled. 'Then they may try their luck in the London courts. I doubt many will want to do that.'
'Then we must be sure we do justice.'
'Indeed. I have left the list in my little study next door, together with the knapsacks containing the petitions. I wonder if Master Barak might be set to marrying up the papers with the names, and our summary, then we can have a quick look through them together.'
'A good idea. Do that, would you, Barak?'
'And take your wine,' Giles added. 'Do not go dry to your task.'
When the door was closed Giles turned and gave me a wry smile. 'Madge tells me she committed a small indiscretion when you were here yesterday. She told you a little of my quarrel with my nephew.'
'Only that it was a quarrel over politics.'
'She felt she had to tell me.' He smiled sadly. 'Well, Matthew, if you are to help me in London, you should know. Only – it was a little difficult for me to speak of.'
'I understand. But – Giles, are you sure you are well enough to travel? After Fulford —'
He waved a large hand, his emerald ring catching the light. 'I am going,' he said with sudden sharpness. 'That is decided. But let me tell you about my nephew.'
'If you wish.'
Giles began. 'It was a great sorrow to me that my wife and I had no children that lived.
Download


Copyright Disclaimer:
This site does not store any files on its server. We only index and link to content provided by other sites. Please contact the content providers to delete copyright contents if any and email us, we'll remove relevant links or contents immediately.