Marked by Pedro Urvi
Author:Pedro Urvi [Urvi, Pedro] , Date: October 4, 2020 ,Views: 648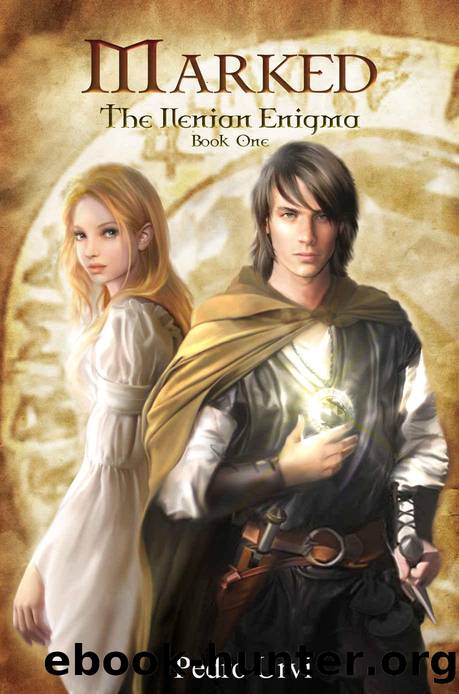 Author:Pedro Urvi [Urvi, Pedro]
Language: eng
Format: epub
Published: 2016-03-04T00:00:00+00:00



The battered column of surviving Lancers was resting in a circle among the undergrowth. Thick clouds swept across the cool night sky, keeping the light of the stars from penetrating the shadows of the steep mountain slopes. Absolute stillness and darkness enveloped them.
Mortuc had ordered there be no fires and no conversation. The enemy could be nearby. A fire—especially in the darkest of nights—would be visible from a great distance and their words would ride through the night on the back of the traitorous wind. They had climbed for hours toward the peak and finally, nearly collapsing, they had stopped to camp next to a sheer rock wall. The mountainside would protect them from the harshness of the night and the altitude.
Aliana had just finished healing the survivors' wounds. Fortunately, they were minor and she'd been able to take care of them without too much difficulty, and she had not exhausted all her curative energy. She could feel it even now, regenerating inside her, and could almost touch the bluish presence in her chest with her fingertips.
Both physically and emotionally fatigued, she needed to rest. But sitting there with her back against a massive fir tree she could not relax. The day's bloody events continued to torment her... So many lives had been lost on the way, and she had a bad feeling that they would not be the last. Nothing could alleviate the sorrow she felt over the loss of so many young lives.
"Thank you for healing the men, Aliana." Gerart sat down beside her. He looked worried.
"Shhh," scolded Aliana, indicating he should lower his voice. "There is nothing to thank me for; it is my duty," she whispered, smiling shyly.
The Prince softened his voice to a whisper. "You healed and comforted us after an extremely difficult experience. I think that deserves a sincere expression of gratitude."
"It really is not necessary..." she insisted.
With a gesture Aliana was not expecting, the young prince took her hand affectionately between his.
Aliana blushed. The pleasant sensation of skin-to-skin contact coupled with the comforting warmth of Gerart's hands had turned her cheeks a tell-tale crimson as she was overcome by conflicting emotions yet again... The sense of well-being, of joy, of passion that Gerart aroused in her was rapidly becoming clearer and more fervent. But almost immediately she was seized by guilt, feeling as if she were betraying her Order, her duty as a Healer—and the irresistible, intoxicating feeling was instantly quashed.
"Your Highness," she said, trying to conceal her embarrassment as passion stirred within her.
"Don't call me 'Highness,' Aliana; you know my name."
"Gerart..." Just the sound of his name in the night awakened the butterflies in her stomach. She quickly withdrew her hand, not daring to look him in the eye.
Gerart looked down and, after hesitating a moment, apologized. "I'm sorry... It wasn't my intention to..."
Aliana hurried to lighten the uncomfortable situation. "There's nothing to apologize for, Gerart."
"If I offended you... please accept my—"
"It's all right," she interrupted, "it's just that we Healers are not used to physical contact.
Download


Copyright Disclaimer:
This site does not store any files on its server. We only index and link to content provided by other sites. Please contact the content providers to delete copyright contents if any and email us, we'll remove relevant links or contents immediately.