Lair of Dreams by Bray Libba
Author:Bray, Libba [Bray, Libba] , Date: August 28, 2015 ,Views: 1594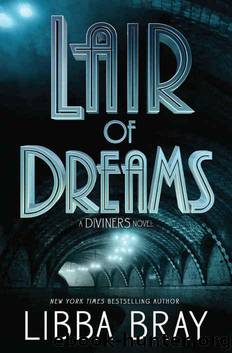 Author:Bray, Libba [Bray, Libba]
Language: eng
Format: mobi, epub
Tags: Juvenile Fiction / Historical / United States / 21st Century, Juvenile Fiction / Fantasy & Magic, Juvenile Fiction / Girls & Women, Juvenile Fiction / Lifestyles / City & Town Life
Publisher: Little, Brown Books for Young Readers
Published: 2015-08-25T05:00:00+00:00



PART TWO
The gloom of January weighed on New Yorkers. The days were short and the nights were very long for people who'd grown to fear sleep. Mothers kept close watch by their children's beds. The rich asked their servants to sit nearby and wake them every few hours. The bootleggers' business was booming. The city was wary and afraid and close to violence.
But for Ling and Henry, it was the nights they lived for. Dreams provided an escape from the worries of the real world, a refuge of hope and possibility. While they waited in the beautiful old train station, Henry would play the piano, trying out new songs, looking to Ling for approval or boredom. If she wrinkled her nose as if something smelled bad, he abandoned it. But if she cocked her head to the side and nodded slowly, he knew he was on the right path.
"Anytime you want to come to the Follies, just say the word, and I'll get you the best seat in the house," Henry promised.
"Why would I do that? I can listen to you here."
"It's not just me, you know. There are grand dance numbers and singers, big stars. It's very glamorous, don'tcha know?"
"It sounds long and tedious."
"Most people love the Follies."
"I'm not most people."
"Darlin', truer words were ne'er spoken," Henry said and laughed.
Wai-Mae was always there to greet their train when it arrived in the forest. She'd beam at Ling and take her hands like a sister, then glance shyly at Henry.
"Miss Wai-Mae, you look radiant this evening," Henry would say with exaggerated courtesy, and Wai-Mae would giggle behind the cover of her hand. Sometimes, Ling and Wai-Mae would join Louis and Henry for a picnic on the grass bordering the river behind Louis's cabin, where music echoed across the forest—the bright syncopation of Dixieland threaded with the high notes of the erhu.
"Here, I'll show you how to dance the Charleston," Ling said, hopping up and taking Wai-Mae's hand in hers.
But when she showed her, Wai-Mae begged off. "What a terrible dance! So ungraceful! Not like the opera."
"Show us how it's done," Henry teased, and Wai-Mae moved with serpentine grace through the grass, rippling the sleeves of her gown as if she were spring coming to life.
"That's beautiful," Louis said. "I never seen anything like it. Not even at the balls in the Quarter."
"If only women could perform," Wai-Mae said, coming to sit beside Ling again.
"Women can't perform in Chinese opera?" Henry asked.
"Oh, no! It's only for men."
"Even the female roles?"
"Yes."
Louis grinned. "Hmm. Sounds like you got yourselves a drag ball."
Henry laughed and looked away.
"What is a drag ball?" Wai-Mae asked.
"Nothing," Henry said quickly, nudging Louis gently with his elbow. "Show us some more, Miss Wai-Mae, if you wouldn't mind."
Wai-Mae danced and Ling curled her toes in the dewy grass, enjoying the slick cool of it. She and Henry had come to accept this as ordinary. The old dream walking, which had once seemed strange and thrilling, bored them now. Here, they could write their own dreams, and every night, the dreams became that much more real.
Download


Copyright Disclaimer:
This site does not store any files on its server. We only index and link to content provided by other sites. Please contact the content providers to delete copyright contents if any and email us, we'll remove relevant links or contents immediately.