Kadambari: Bana by Bana
Author:Bana , Date: January 11, 2018 ,Views: 697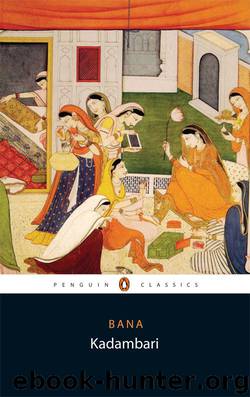 Author:Bana
Language: eng
Format: epub
ISBN: 9780143064664
Publisher: Penguin Books Ltd
Published: 2010-03-12T00:00:00+00:00



-35-
Chandrapida looked at Kadambari's lovely face shining with the lustre of the moon and his heart swelled with delight just like the waters of the ocean. He thought, 'How I wish I could have Brahma change all my senses into sight alone. How fortunate my eyes are to have the uninterrupted pleasure of gazing at this girl. Where, I wonder, did Brahma come upon the matter for creating this extraordinarily lovely form? I am quite sure that all the fragrant flowers of the world, the lilies and the lotuses came into existence out of the tear drops falling from the eyes of this beautiful form when she wept with distress at the touch of Brahma's hands when he fashioned her.'
As his thoughts raced on in this excited fashion his eyes fastened on hers. Kadambari realized this was the person Keyuraka had talked about; her face lit up with a smile when she saw his extraordinary beauty and her eyes lingered on him for a long time. First her body thrilled with the hair standing on edge, then one heard the tinkle of the ornaments, then Kadambari rose.
At once Kamadeva took possession of her. It was he who made her break out in perspiration, but the hurried getting up was made the excuse. He it was who impeded her gait by making her thighs tremble, but it was the hamsa pair that followed her footsteps at the sound of the anklets that drew her censure. The sighs that broke out of her disarranged her utthariya but the blame went to the chamara wielder. It was her great joy that brought the tears to her eyes, but the pollen from the shaken flowers on the ears was made the ostensible cause. It was the trembling of her body that caused the hand to shake but the pretence was that she merely shook away the hand of the pratihari extended to hold her.
Manmatha who had already entered Kadambari made a double of himself as it were and set foot into Chandrapida's heart along with her. The prince fancied that the brilliance of her jewels was only the screen separating them who were about to be wedded. Nay, Kadambari's mere entry into his heart was his true wedding with her; the tinkle of their ornaments was their love talk, the mingling of their body-lustre their physical union.
Kadambari took a few steps as though with difficulty and embraced Mahashveta whom she had not seen for a long time, with a lot of affection. Mahashveta too held her closely and said, 'Dear friend Kadambari, there is in the land of Bharata a great king called Tarapida whose victorious horses have left their hoof marks all over the world right up to the four oceans. He protects his subjects from all evils. This is his son named Chandrapida who, with the strength of his own pillar-like arms bears the burden of the earth with ease; he bears it like a garland on his head, and gives her comfort.
Download


Copyright Disclaimer:
This site does not store any files on its server. We only index and link to content provided by other sites. Please contact the content providers to delete copyright contents if any and email us, we'll remove relevant links or contents immediately.