John Flynn: Into the Never Never (Christian Heroes: Then & Now) by Benge Janet & Benge Geoff
Author:Benge, Janet & Benge, Geoff [Benge, Janet] , Date: June 3, 2020 ,Views: 241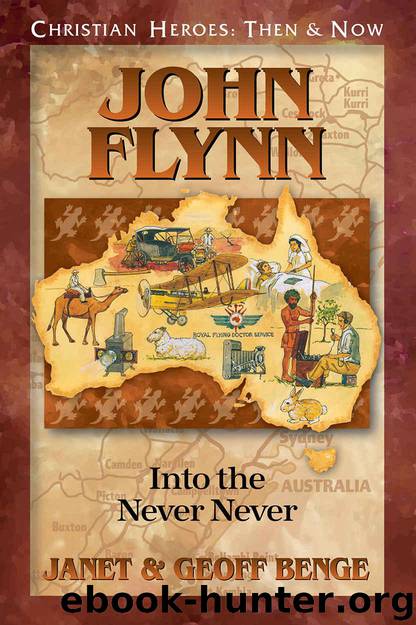 Author:Benge, Janet & Benge, Geoff [Benge, Janet]
Language: eng
Format: azw
Tags: Christian biography, John Flynn, Australia, missionaries, outback
Publisher: YWAM Publishing
Published: 2016-05-11T16:00:00+00:00



Chapter 10
Hopelessly Bogged Down
"You aren't serious, are you?" David Wyles asked. David, a radio expert in Sydney, was an elder in the Presbyterian Church.
"Very serious," John replied. "I want to know what you think the biggest obstacles will be."
David shook his head. "You may have to face the fact that it can't be done, but since you asked, here are the challenges you need to overcome." He took a deep breath and poured himself another cup of tea. "First, the cost. You're talking about each radio set costing hundreds of pounds. And don't forget you'll have to set up mother stations for the operators to be in contact with. Those will cost thousands." David stopped for a moment to stir his tea. "But assuming money was not a problem, the sets need electricity to run. Not many homes in the outback have electricity, do they?"
"No," John replied.
"Well then, you'd have to supply them with batteries—more expense, especially since extreme heat is hard on batteries. They wouldn't last long or be that reliable."
John nodded. "Another challenge. Anything else?"
"To be honest, the biggest problem is probably going to be Morse code. It takes time and determination to become good at it. I wonder how many bush people will be willing to put in the effort ahead of an emergency."
"What about telephony?" John asked. "I've read how some amateur radio enthusiasts have transmitted their voices with their equipment. Could the outbackers do that?"
"It's not possible over the distances you're thinking about. The power supply isn't strong enough. You might be able to get a voice to transmit from one side of Sydney to the other, but not one side of the country to the other. We're not there yet. Probably won't be for ten or twenty years."
"I can't wait that long," John said. "Something has to be done. Do you know someone who could help me?"
David paused for a moment. "If you're sure you want to do this, I know the best person out there. Let me ask him if he's interested."
A week later, John received a letter from George Towns. George had been a wireless operator during the war. David had spoken to him, and George was willing to work with John for six months free of charge in his quest for a workable radio in the outback. John was ecstatic.
In preparation for traveling to Alice Springs, John had ordered a Dodge buckboard. Two patrol padres now used cars to travel their circuits, and John had been impressed by how much faster and easier it made their travel in the outback. But John wanted a vehicle in which he could carry more cargo than fitted into a car. Hence the buckboard, which was made by cutting the back off a four-door Dodge car and putting a truck bed on the back instead. The Dodge John bought was being converted to a buckboard by a company in Adelaide. John intended to take delivery of it there ahead of his trip inland to Alice Springs.
Download


Copyright Disclaimer:
This site does not store any files on its server. We only index and link to content provided by other sites. Please contact the content providers to delete copyright contents if any and email us, we'll remove relevant links or contents immediately.