Internet Literature in China by Michel Hockx
Author:Michel Hockx [Hockx, Michel] , Date: February 29, 2020 ,Views: 164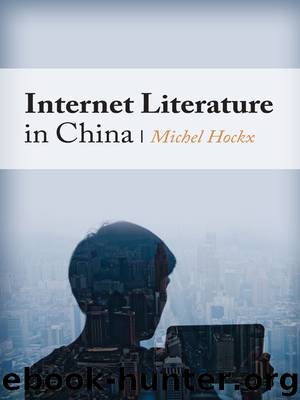 Author:Michel Hockx [Hockx, Michel]
Language: eng
Format: mobi
Tags: LIT008010, SOC052000, Literary Criticism/Asian/Chinese, Social Science/Media Studies
Publisher: Columbia University Press
Published: 2015-02-16T16:00:00+00:00



Figure 3.3 Netizens' mocking response to 2007 banning of forty pornographic novels. http://www.u148.net/article/421.html.
Flying Gourd: Legal Erotic Fiction
A salient aspect of the blacklists of obscene and pornographic fiction published at regular intervals by GAPP in 2010 and 2011 is the fact that a small number of websites constantly feature in the top five of transgressors. Clearly these sites continually publish transgressive work, pushing the boundaries of what is permissible (to the authorities) or acceptable (to its readers) and taking the risk of occasionally having to remove content that went too far. One of these sites is the previously mentioned Flying Gourd, a medium-size fiction site operating the Starting Point business model and based in Beijing. I visited the site a number of times in 2011 and again in 2013. I also contacted the site owners, a man and woman in their twenties, and met with them over a meal in Beijing, gaining some insight into their business model and their self-perception.
The Flying Gourd front page does not make it look much different from other fiction sites. The main genre categories are also similar to those of other sites and include fantasy, martial arts, romance/urban, youth/campus, BL/fan fiction, historical fiction, and horror fiction. Like Starting Point and other sites, Flying Gourd also has a separate women's section (http://www.feilu.cc), designed with a predominantly pink color scheme. When I first visited the site in 2011, I noticed that there was little distinctive advertising on the main page, but once I followed links to individual novels, the texts tended to be surrounded by ads for Viagra, lingerie, and sex toys, as well as for online adventure games that appeared to feature erotic images. During a second visit in September 2013, there was less, and less explicit, advertising to be seen.
Also like Starting Point, access to the site's VIP works is charged at three fen per thousand words. The site has a certain number of contracted authors and also offers unfamiliar authors the opportunity to serialize their writing. Authors who send in regular installments and manage to cultivate a sizable readership, as well as gain positive comments ("likes") from readers, can make their way up the rank tables, which may result in their being offered a contract.39 Typically, popular novels on the site will offer around a hundred chapters for free and then switch to VIP mode, a process referred to as shangjia ("getting on the perch"). Sometimes novels are serialized for free on more than one site at the same time, but once they become VIP works with one site, the authors are contractually obliged to discontinue submitting elsewhere. For instance, I found one example of a partial publication of one of Flying Gourd's most popular works, Mishang xifu (Infatuated with the Wife), on a different site, with an announcement that serialization had been stopped because the work was now under contract with Flying Gourd, referring readers to that site for the latest updates.40
Download


Copyright Disclaimer:
This site does not store any files on its server. We only index and link to content provided by other sites. Please contact the content providers to delete copyright contents if any and email us, we'll remove relevant links or contents immediately.