Inseparable by Emma Donoghue
Author:Emma Donoghue [Donoghue, Emma] , Date: June 28, 2017 ,Views: 536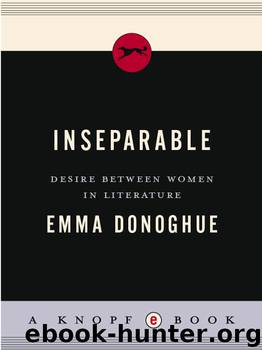 Author:Emma Donoghue [Donoghue, Emma]
Language: eng
Format: epub
ISBN: 978-0-307-59361-0
Publisher: Knopf Doubleday Publishing Group
Published: 2010-06-27T16:00:00+00:00



David Henry Friston, in J. Sheridan LeFanu, Carmilla, in The Dark Blue (March 1872).
LeFanu's vampire tale first appeared in installments in this short-lived journal with an impressive roster of contributors. This illustration focuses on the moment when Carmilla looms in a predatory way over a sleeping figure—not our innocent heroine, Laura, interestingly, but a minor character named Bertha, who could be shown bare-breasted without shocking readers as much. An English figure painter, Friston went on to be the very first illustrator of the Sherlock Holmes stories.
The vampire, too,74 has often been used as an allegory for the Other, especially a member of a distrusted, invisible minority such as Jews. Queers fit the vampire profile even better: a hidden identity revealed only by subtle signs, a nocturnal subculture of predators looking for naïve victims to recruit into their lifestyle. And it is hardly a stretch to draw an analogy between same-sex desire and the vampire's thirst for blood: a secret craving for the exchange of fluids by mouth, a nonreproductive melding of bodies, associated with disease, sterility, and death.
The lesbian vampire first appears in Joseph Sheridan Le Fanu's Carmilla (1872), but Le Fanu was probably influenced by Coleridge's Christabel (the mysterious frail beauty begging the young heroine to give her refuge) and Diderot's La Religieuse (the heroine who maintains her innocence through a series of increasingly steamy encounters). In turn, his novella was an important source for Bram Stoker's Dracula (1897), a quarter of a century later. Laura, Le Fanu's narrator, finds her new friend Carmilla's passion for her "unintelligible":75
It was like the ardour of a lover; it embarrassed me; it was hateful and yet overpowering; and with gloating eyes she drew me to her, and her hot lips travelled along my cheek in kisses; and she would whisper, almost in sobs, "You are mine, you shall be mine, and you and I are one for ever." Then she has thrown herself back in her chair, with her small hands over her eyes, leaving me trembling.
"Are we related," I used to ask; "what can you mean by all this?"
Download


Copyright Disclaimer:
This site does not store any files on its server. We only index and link to content provided by other sites. Please contact the content providers to delete copyright contents if any and email us, we'll remove relevant links or contents immediately.