I'm Not Playing: Thoughts From a Raw Brotha by Rom Wills
Author:Rom Wills [Wills, Rom] , Date: November 22, 2020 ,Views: 20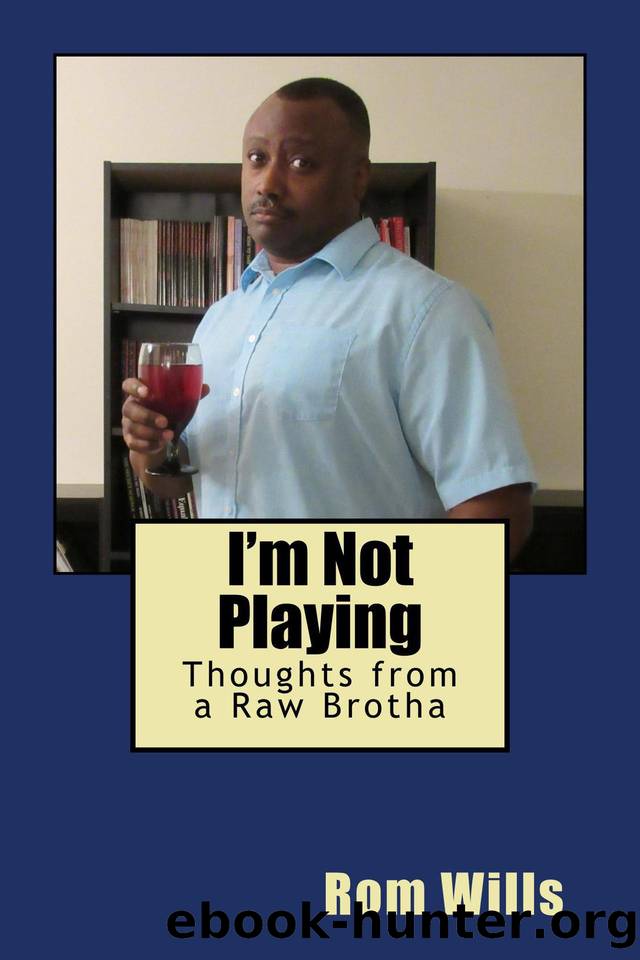 Author:Rom Wills [Wills, Rom]
Language: eng
Format: epub
Tags: Families, Non-Fiction, Parenting, Man-Woman Relationships
ISBN: 9780692956281
Google: 6nXDtAEACAAJ
Publisher: Wills Publishing
Published: 2017-12-13T00:00:00+00:00



Big Man Swag
November 30, 2014
Let me tell you something. I know I talk a lot about Mr. Goodbar, that fine dude that has all the ladies swooning. He is typically a handsome man with a muscular body. Some Goodbar types are tall and slim. Even people who follow the Alpha Male paradigm will say that the dominant men are tall and good-looking. Okay, fair enough. Life though isn't nice and neat like that. No matter if someone is using the select/non-select model I use in my writings or the more popular Alpha/Beta model there are always exceptions to the rule. The models are just guidelines that should not be considered absolute. In plain language there are exceptions to the rule.
One exception that comes to mind are the Big Men. I'm talking about those cats who are not necessarily muscular or even that tall in many cases. I'm talking about those big, hamburger and fries, rack of ribs, potato salad, and biscuit eating dudes. Y'all know what I'm talking about. Those men who eat their cereal with a big cake mixing bowl and a ladle. Those cats who will go into a restaurant, sit down, look at the menu, call over the waiter and say, "I want page 2."
"You want something on page 2, sir."
"You ain't hearing me. I want everything on the page."
I'm talking about those types of dudes who you know got a big ass outdoor grill somewhere. A Big Man and a grill is as American as apple pie. You know they got some ribs on, barbecuing during the winter and whatnot.
See I'm not going to say fat. Some dudes are just naturally big. They lose some weight and people will think they have a virus. Some men just know how to carry their weight. So why am I talking about Big Men? Big Men be getting some bad ass women.
I've known a lot of Big Men in my day. Truth be told if I don't work out my weight can get up. I've weighed as much as 270 in my life and still had women flirting with me. Even now, weighing 205, I'm only a month of eating pasta away from having to shop at a Big and Tall Men's shop. A co-worker on my day job calls me "Rom Diesel."
Yeah I've personally talked to thousands of women about their preferences. Now many will say that they want a tall, athletic type of man. Thing is that is more of an ideal. Like many men will say they want a woman with an hourglass figure. Very few men actually end up with that woman. It's the same thing with women. They can say they want a 6'2", handsome and muscular guy, who a stylish dresser, and has a six figure income. Realistically the best they can do is a 5'9" pudgy dude who is fashion challenged and makes a dollar more than minimum wage. Women are more pragmatic than many men realize. They will take what they can get.
Download


Copyright Disclaimer:
This site does not store any files on its server. We only index and link to content provided by other sites. Please contact the content providers to delete copyright contents if any and email us, we'll remove relevant links or contents immediately.