I Am Nujood, Age 10 and Divorced by Ali Nujood
Author:Ali Nujood , Date: March 25, 2014 ,Views: 633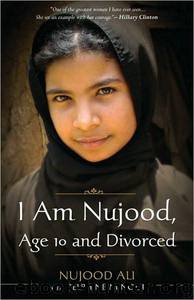 Author:Ali Nujood
Language: eng
Format: mobi, epub
Tags: Child marriage, Autobiography, Sociology, Customs & Traditions, Children's Studies, Marriage & Family, Girls, Islamic Studies, Yemen (Republic) - Social life and customs, Middle East, Social conditions, Manners And Customs, Biography, Social Science
ISBN: 9780307589675
Publisher: Random House, Inc.
Published: 2010-03-02T05:00:00+00:00



Back home, I realized I would have to act quickly if I wanted to get rid of that man and avoid being dragged back to Khardji. Five days passed, five difficult days during which I kept running into walls. My father, my brothers, my uncles--no one would listen to me.
Knocking on every possible door in search of someone who would, I went to see Dowla, my father's second wife, who lived with her five children in a tiny first-floor apartment in an old building at the end of a blind alley, right across from our street. Driven by my anguish at the thought of returning to Khardji, I climbed the stairs, holding my nose to avoid the stench of garbage and communal toilets. Dowla opened her door wearing a long red and black dress and a huge smile.
"Ya, Nujood! What a surprise to see you again. Welcome!"
I liked Dowla. She had olive skin and long hair, which she kept braided. Tall, slender, she was prettier than Omma, and always endlessly patient--she never scolded me. The poor woman hadn't had an easy time of it, though. Married late, at twenty, and to my father, who neglected her completely, she had learned to rely solely on herself. Her oldest boy, Yahya, eight, was born handicapped; still unable to walk, he required special attention, and his tantrums could last several hours. In spite of her poverty, which forced her to beg in the street to pay her paltry rent and buy bread for her children, Dowla was incredibly generous.
She invited me to sit on the big straw pallet that took up half the room, next to the tiny stove where water was boiling. She often had to fill her little ones' bottles with tea instead of milk. Hanging from hooks on the wall, the plastic bags she used as her "pantry" looked far from full.
"Nujood," she ventured, "you seem very worried."
I knew that she was one of the few members of my family who had opposed my marriage, but no one had bothered to listen to her. She, on whom life had not smiled, had always shown compassion for those even less well off than she was. I felt I could trust her, and knew I need hide nothing from her.
"I've so much to tell you," I replied, and then I poured out my heart.
Frowning, she listened to my story, which seemed to affect her deeply. She thought quietly for a moment, busying herself at the stove, then poured me some boiling tea in the only glass Yahya had not yet broken. Handing it to me, she leaned over and looked into my eyes.
"Nujood," she whispered, "if no one will listen to you, you must just go straight to court."
"To what?"
"To court!"
To court--but of course! In a flash, I saw images of judges in turbans, lawyers always in a hurry, men in white zannas and veiled women coming to complain about complicated family problems, thefts, squabbles over inheritances. Now I remembered what a
Download


Copyright Disclaimer:
This site does not store any files on its server. We only index and link to content provided by other sites. Please contact the content providers to delete copyright contents if any and email us, we'll remove relevant links or contents immediately.