Giving Grief Meaning by Lily Dulan
Author:Lily Dulan [Dulan, Lily] , Date: February 24, 2021 ,Views: 15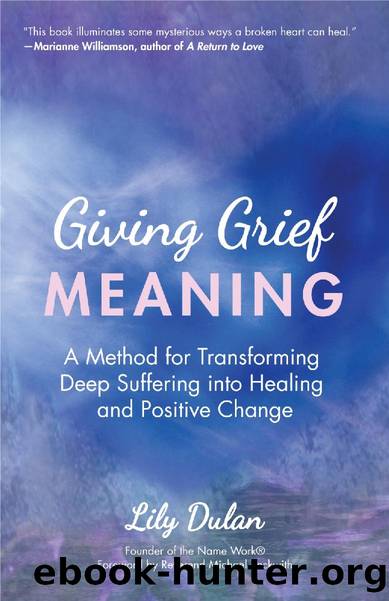 Author:Lily Dulan [Dulan, Lily]
Language: eng
Format: epub
ISBN: 9781642503142
Publisher: Mango Media
Published: 2020-10-23T08:55:06+00:00



Chapter 14
The Name Work for Survivors
In order to heal and really engage with The Name Work, we may need to disengage from abusive relationships or toxic family patterns. When we change the way we interact with and react to negative forces in our lives, our personal traumas and tragedies can morph into something new, informed, and inspired.
When I compare my struggles with those of Mother Nature, I think about a worm that gets cut in half. The worm can still grow and begin a completely new life after it has been sliced. The Name Work offers us a chance to become like children who dig in the mud as we unearth what is unpleasant and offer ourselves a remedy.
When we ask ourselves the tougher and more challenging questions that arise from our chosen qualities, we begin to shine a flashlight on our darkness and despair. We can see what's squirming around in our consciousness, label it, and create a healing narrative. Perhaps you've already done the digging and know that you've been victimized. Maybe you can't remember the details, but you have an unsettling and disturbing feeling that follows you around. It doesn't matter if the memories are clear or vague. What matters is whether or not you're letting the abuse, the trauma, that gray feeling of depression, angst, or despair, destroy your life.
It's common in some self-help and wellness communities to say that anger and resentment are like swallowing poison we intend for someone else. Many of us have felt the effects of taking that bad medicine. We've held onto a sense of rightness and lamented that someone has done something that has caused us pain and suffering. The inner dialogue may go something like this: "I'll show them. I'll teach them. I'll prove my case and win the argument. They are sick! They don't care at all. This can't stand!"
Our thoughts race and we stew over them. Some of us plot revenge. But many spiritual teachers have said at one point or another, "Would you rather be happy or would you rather be right?" If we want to be happy, we need to tend kindly to our wounds and our negative thoughts. The Name Work affords us the chance to begin the process of letting others have their own narratives, even when their opinions may in fact be twisted, stilted, crazy, sinister, abusive, or just plain wrong in our eyes.
When we admit that we are angry, hurt, or filled with resentment, we can begin the lifelong and beautiful process of becoming our own best friend. We can begin to let go of the dream of having our grievances heard and being understood. The sting of being called selfish or crazy by others no longer hurts as much when we love ourselves enough to set boundaries and value our life's journey. Through The Name Work, the label "selfish" that we internalized can become "self-care." The affirmation becomes, "I love myself and I set healthy boundaries. It's okay to say no and take care of myself.
Download


Copyright Disclaimer:
This site does not store any files on its server. We only index and link to content provided by other sites. Please contact the content providers to delete copyright contents if any and email us, we'll remove relevant links or contents immediately.