Foreign Service by James Dobbins
Author:James Dobbins , Date: August 6, 2020 ,Views: 362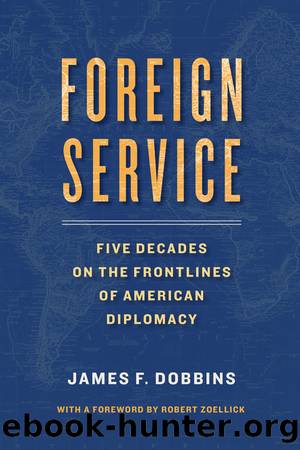 Author:James Dobbins
Language: eng
Format: epub
Publisher: Brookings Institution Press



EIGHTEEN
Hemispheric Interlude
INSTEAD OF GOING TO ARGENTINA in 1996 I moved to the National Security Council where I became special assistant to President Clinton responsible for the Western Hemisphere. This proved a good time to be working on Latin America and a fascinating time to be on the White House staff. Relations with our hemispheric neighbors were approaching an all-time high. Relations with the Republican-dominated Congress were approaching an all-time low.
Within the White House, my closest collaborator was Thomas "Mack" McClarty. Mack was a close friend of the president, a relationship dating back to their time together in kindergarten in Hope, Arkansas. Mack had been President Clinton's first chief of staff. Clinton's initial few months in office had been rocky and Mack accepted some of the blame. Replaced as chief of staff by Leon Panetta, Mack was named counselor to the president and "special envoy for the Americas." Having such a well-connected figure in the White House with responsibilities overlapping my own could have resulted in certain tensions, except that Mack was determined otherwise. His highest priority was promoting hemispheric trade and investment. These were areas where I was happy to follow his lead and grateful for the additional weight he could bring to bear. On security-related issues, he looked to Lake, Berger, and me, although always willing to use his own contacts and influence to advance policy. Mack was also just about the most courteous and considerate person I ever met. This might explain why his tenure as White House chief of staff was so brief, but it certainly made my relationship with him a pleasure.
When he entered office Clinton pushed the North American Free Trade agreement through Congress and spent the rest of his tenure seeking to promote a somewhat similar arrangement for the hemisphere as a whole. This objective had been embraced by other regional leaders in the first summit of the Americas, held in Miami in 1994. Negotiations continued for over a decade, eventually foundering on the desire of South American governments to establish their own common market, one that would exclude the United States. While the interest lasted, however, Clinton's initiative gave regional leaders a good deal to talk about and became the centerpiece of an unusually intense hemispheric dialogue.
The issues of trade, immigration, drugs, and democracy drove hemispheric relations. Mexico was especially important because of its size and proximity. Haiti and Cuba were two special problem cases. By the late 1990s every country in the western hemisphere except Cuba had a democratically elected government although, naturally, the quality of these democracies varied. Military coups, dictatorships, and civil wars were still fresh memories, so this happy condition was by no means taken for granted. The civilian leaders of these countries were proud of what they had achieved, eager to avoid any roll-back, and ready to act in concert to maintain their gains. It was this democratic solidarity that led the Organization of American States to impose sanctions on the coup regime in Haiti, then to send
Download


Copyright Disclaimer:
This site does not store any files on its server. We only index and link to content provided by other sites. Please contact the content providers to delete copyright contents if any and email us, we'll remove relevant links or contents immediately.