Echoes of the Runes by Christina Courtenay
Author:Christina Courtenay [Courtenay, Christina] , Date: November 11, 2020 ,Views: 45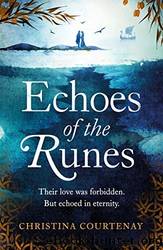 Author:Christina Courtenay [Courtenay, Christina]
Language: eng
Format: epub
Publisher: Headline
Published: 2020-03-05T06:00:00+00:00



One of Ragnhild's brothers arrived one morning with the news that their father lay on his deathbed. The old man had asked to see Ragnhild in order to say his farewells, and she immediately prepared herself for the short journey inland to the family holdings.
It was as if the entire farmstead breathed a sigh of relief after their mistress had gone, sitting regally in the prow of her brother's small ship surrounded by baskets of provisions.
'Does she not think they'll feed her?' Aase had muttered, huffing and puffing as she ran to and fro trying to organise everything for Ragnhild's departure. 'Honestly, you'd think she was travelling to Garðaríki or Gríkkland.'
There was almost an atmosphere of feasting during the days that followed, and even thralls were heard to go about their work singing or humming to themselves. It was remarkable how one person's absence could change things, and the difference was especially noticeable in Haukr, who was seen to smile frequently and spent the evenings laughing and joking with his men.
Ceri felt happy and almost content for the first time in months, but on the third night she was woken up by a fretful Jorun, who was tossing and turning.
'What's the matter?' Ceri whispered, but she knew the child couldn't hear her so she stroked her head instead, trying to soothe her back to sleep. Jorun was burning hot to the touch, so Ceri left the warm blankets and furs and went to fetch some water.
The little girl settled down temporarily, but was soon whimpering in her sleep, and Ceri knew she had to do something. The only thing that helped against a fever was to bathe the sick person's forehead with cool water, but in order to do this she needed to see what she was doing. She wondered if she dared to put wood on the hearth to give her more light, or whether she'd be reprimanded for this. In the end, there was only one thing she could do – she went in search of Haukr.
Quietly pushing past the heavy curtain that separated his sleeping quarters from the rest of the hall, she stepped inside and stopped to get her bearings. She knew that Haukr's bed was in the far corner, and she took a few hesitant steps in the dark. Before she had gone even halfway, a voice hissed out of the darkness. 'Who goes there?'
'It's only me, Ceri. I'm sorry to disturb you, but your daughter is ill.'
'Jorun? What ails her? Wait.'
Ceri heard movement as he walked past her into the main hall. In the next moment he was back carrying an oil lamp. As he stood in front of her wearing nothing but his trousers, the light reflected off his massive torso, which had a dusting of golden hairs tapering down towards his waistband. She looked away, embarrassed.
'Jorun has a fever. I need to bathe her with cold water, but I couldn't see out there in the hall.'
He seemed to understand immediately, without her explaining further.
Download


Copyright Disclaimer:
This site does not store any files on its server. We only index and link to content provided by other sites. Please contact the content providers to delete copyright contents if any and email us, we'll remove relevant links or contents immediately.