Do Androids Dream of Electric Sheep? by Philip K Dick
Author:Philip K Dick [Dick, Philip K] , Date: July 20, 2020 ,Views: 430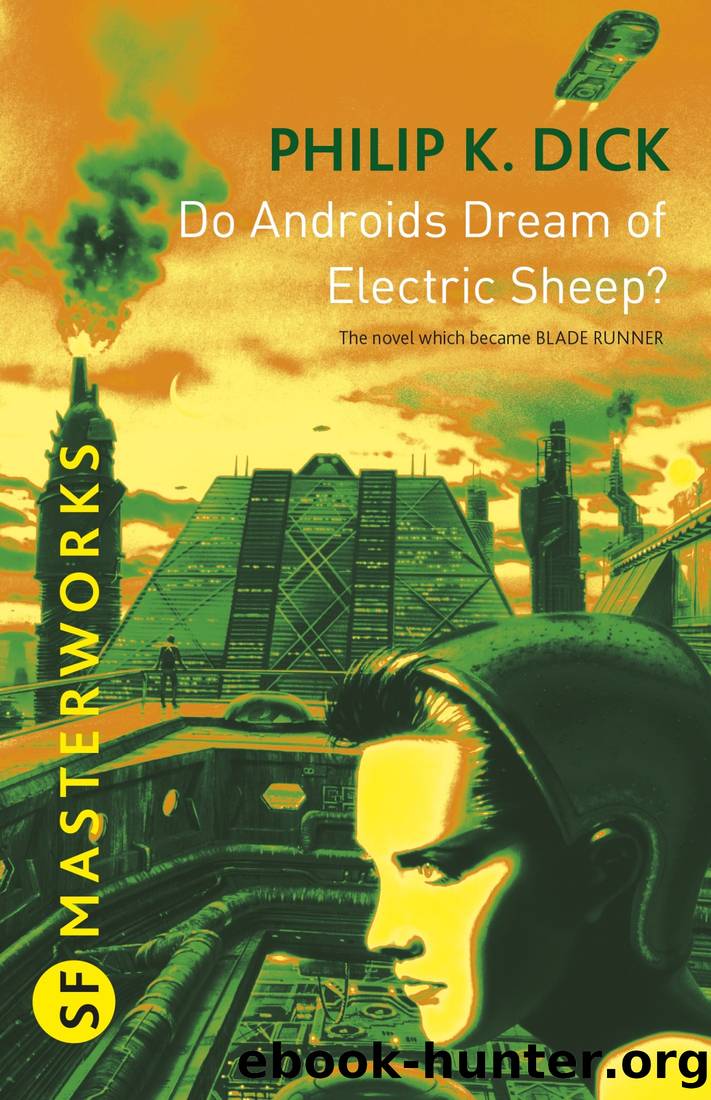 Author:Philip K Dick [Dick, Philip K]
Language: eng
Format: epub
ISBN: 9781615233595
Amazon: 0345350472
Publisher: Bantam Dell Publishing Group
Published: 1968-04-04T00:00:00+00:00



11
Garland said, "I guess so." He jabbed a finger at the bounty hunter Phil Resch. "But I'm warning you: you're not going to like the results of the tests."
"Do you know what they'll be?" Resch asked, with visible surprise; he did not look pleased.
"I know almost to a hair," Inspector Garland said.
"Okay." Resch nodded. "I'll go upstairs and get the Boneli gear." He strode to the door of the office, opened it, and disappeared out into the hall. "I'll be back in three or four minutes," he said to Rick. The door shut after him.
Reaching into the right-hand top drawer of his desk, Inspector Garland fumbled about, then brought forth a laser tube; he swiveled it until it pointed at Rick.
"That's not going to make any difference," Rick said. "Resch will have a postmortem run on me, the same as your lab ran on Polokov. And he'll still insist on a—what did you call it—Boneli Reflex-Arc Test on you and on himself."
The laser tube remained in its position, and then Inspector Garland said, "It was a bad day all day. Especially when I saw Officer Crams bringing you in; I had an intuition—that's why I intervened." By degrees he lowered the laser beam; he sat gripping it and then he shrugged and returned it to the desk drawer, locking the drawer and restoring the key to his pocket.
"What will tests on the three of us show?" Rick asked.
Garland said, "That damn fool Resch."
"He actually doesn't know?"
"He doesn't know; he doesn't suspect; he doesn't have the slightest idea. Otherwise he couldn't live out a life as a bounty hunter, a human occupation—hardly an android occupation." Garland gestured toward Rick's briefcase. "Those other carbons, the other suspects you're supposed to test and retire. I know them all." He paused, then said, "We all came here together on the same ship from Mars. Not Resch; he stayed behind another week, receiving the synthetic memory system." He was silent then.
Or rather it was silent.
Rick said, "What'll he do when he finds out?"
"I don't have the foggiest idea," Garland said remotely. "It ought, from an abstract, intellectual viewpoint, to be interesting. He may kill me, kill himself; maybe you, too. He may kill everyone he can, human and android alike. I understand that such things happen, when there's been a synthetic memory system laid down. When one thinks it's human."
"So when you do that, you're taking a chance."
Garland said, "It's a chance anyway, breaking free and coming here to Earth, where we're not even considered animals. Where every worm and wood louse is considered more desirable than all of us put together." Irritably, Garland picked at his lower lip. "Your position would be better if Phil Resch could pass the Boneli test, if it was just me. The results, that way, would be predictable; to Resch I'd just be another andy to retire as soon as possible. So you're not in a good position either, Deckard. Almost as bad, in fact, as I am. You know where I guessed wrong? I didn't know about Polokov.
Download


Copyright Disclaimer:
This site does not store any files on its server. We only index and link to content provided by other sites. Please contact the content providers to delete copyright contents if any and email us, we'll remove relevant links or contents immediately.