Dignity by Chris Arnade
Author:Chris Arnade , Date: June 5, 2019 ,Views: 393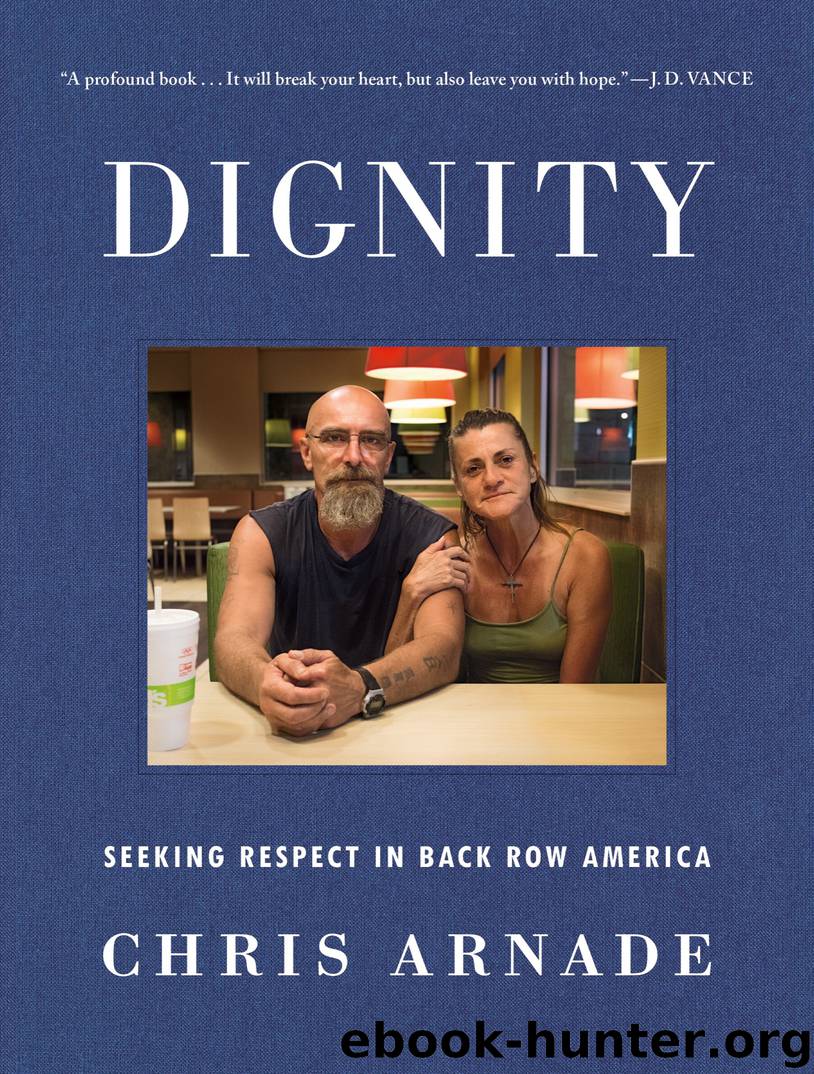 Author:Chris Arnade
Language: eng
Format: epub
Publisher: Penguin Publishing Group
Published: 2019-06-03T16:00:00+00:00



* * *
• • •
Getting by in Cairo is tough. Walking around feels like surveying the damage long after a natural disaster. Entire neighborhoods are just grids of boarded-up buildings being overtaken by vines and shrubs, empty lots, and empty streets, although the town is oddly orderly. The empty lots are mostly free of garbage and not overrun with growth, the streets, street signs, and stoplights are all in order and working. There isn't much trash because there is nobody left to litter.
There are plenty of reminders of what once was. An old hospital occupies an entire section of town, its decaying mass almost mocking the town that remains. A resident walking past, heading toward the assisted-living center across the street, shouts a warning: "Don't get too close to that! It is filled with poisons."
The downtown is a single street in a large field lined with boarded-up buildings. Fake traditional-style lampposts, brick streets, and a wrought-iron archway proclaiming, "Historic Downtown Cairo," are from past attempts to revive and market it.
The single brick street ends in a floodwall along the Ohio. Behind the wall, Tom, fifty-six, is sitting next to his truck, watching the barges head down the river. He is the only white person I have seen, and he eyes me with caution. "I really shouldn't be talking to a stranger. This town isn't safe that way. Didn't used to be like it is now. People with money all left. Like a ghost town now. Like a ghost town."
Despite his concerns, he opens up and talks for close to an hour, reminiscing about Cairo and how it used to be: "Kay-ro used to be something. We had a drive-in. We had clubs. We had businesses. We had stores. We had shops. It has two rivers but can't do a thing with them, because nobody wants to invest money in this town.
"You go thirty miles in any direction from here, go to Paducah, Sikeston, or Cape Girardeau, they are thriving. All three of them have Walmarts. So to get anything you have to go thirty miles there and thirty miles back."
When I ask if he remembers the protest, he changes my wording to "riots": "Businesses all left after the riots. I remember them marching and the boycotts and then the National Guard came. Then businesses left and now there are no food stores or no gas stations."
He goes into the cab of his truck and finds a postcard he keeps in a glove compartment jammed with tools. "This picture is from 1927, when Cairo was something." When I ask him why he hasn't left, he says, "I had a good job, drove a forklift for thirty-five years, and didn't see the need to leave my home."
I walk for close to an hour without seeing anyone else. Eventually I spot a man walking down the street smoking a cigarette in a neighborhood of beautiful Victorian homes with nobody in them.
He is polite, soft spoken, and smells of drink. He was born and raised in Cairo but left town "for a woman" before coming back for his family.
Download


Copyright Disclaimer:
This site does not store any files on its server. We only index and link to content provided by other sites. Please contact the content providers to delete copyright contents if any and email us, we'll remove relevant links or contents immediately.