Digital Supply Networks: Transform Your Supply Chain and Gain Competitive Advantage with Disruptive Technology and Reimagined Processes by Amit Sinha & Ednilson Bernardes & Rafael Calderon & Thorsten Wuest
Author:Amit Sinha & Ednilson Bernardes & Rafael Calderon & Thorsten Wuest [Amit Sinha] , Date: July 20, 2020 ,Views: 168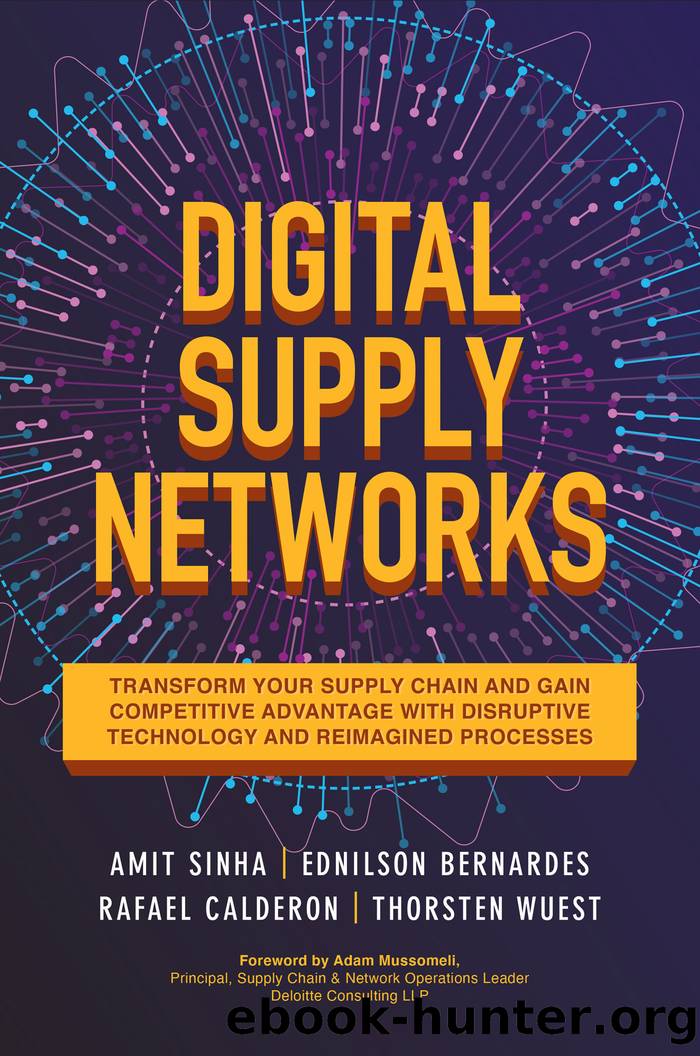 Author:Amit Sinha & Ednilson Bernardes & Rafael Calderon & Thorsten Wuest [Amit Sinha]
Language: eng
Format: epub
Publisher: McGraw-Hill
Published: 2020-07-20T16:00:00+00:00



PREDICTIVE STRATEGIC SOURCING enables intelligent category management and spend analytics. Category managers can visualize end-to-end information in an easy to understand format and can optimize customer service, manufacturing execution, and working capital via simulation and machine learning algorithms with rich data sets. Spend analysis in the digital age is utterly transformative. Past and present spends can be analyzed at different levels of detail using aggregation and disaggregation and by adopting different levers and scales to optimize the spend. The predictive model can consider the demand forecast from the supplier, the organization's sales and operations plans, and its future vision while predicting the spend for the short term, medium term, and long term. Total cost analysis with lifetime value and procure-to-purchase calculations can occur in an integrated approach while considering all the nodes of the DSN and associated parameters.
INNOVATION is paramount for an organization's success in the current market environment. One of the most important benefits of intelligent supply is the shift in procurement's role in the firm's innovation process. With added dependence on suppliers for the value addition, collaboration with the supplier for product and service innovation is natural. Digital tools, as part of intelligent supply, deliver this innovation through a collaborative yet controlled environment. Crowdsourcing is another recent development in this process to push innovation through gaining the ideas and intelligence of the outside networks. This innovative approach in a collaborated framework hugely impacts the network value.
AUTOMATION PROCUREMENT EXECUTION is a significant benefit of intelligent supply, as it eliminates the repetitive processes that hamper many procurement organizations today. RPA reduces the cost per invoice drastically compared to the current manual methods. Blockchain solutions can verify and validate transactions in the P2P process and can trigger automated payments. Automated P2P transaction workflows from purchase order to shipping notification, delivery, invoicing, payment, and service settlement save significant time and greatly enhance process efficiency.
PROACTIVE SUPPLIER MANAGEMENT is the ability to respond to a potential risk before it materializes. It also enables real-time tracking of demand, supply, and product shipment in the network. With easy to access master, transaction, and other data sets related to supply, fortified by synchronized planning capabilities, supply network uncertainty can be minimized. Proactive contract management and monitoring of rules automatically achieves compliance, and compliance exceptions are identified and predicted for analysis and resolution by the relevant team.
Download


Copyright Disclaimer:
This site does not store any files on its server. We only index and link to content provided by other sites. Please contact the content providers to delete copyright contents if any and email us, we'll remove relevant links or contents immediately.