Deviance in Neo-Victorian Culture by Saverio Tomaiuolo
Author:Saverio Tomaiuolo , Date: July 1, 2020 ,Views: 25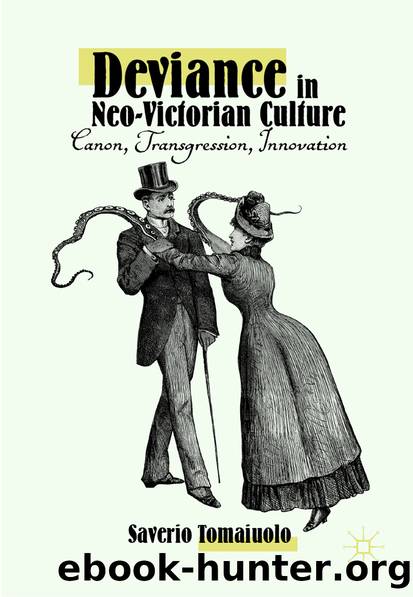 Author:Saverio Tomaiuolo
Language: eng
Format: epub
ISBN: 9783319969503
Publisher: Springer International Publishing



Whereas the Brixton, Paris and Tottenham riots did not have a definite mastermind, Edginton and Fabbri decided to 'resuscitate' Holmes's traditional enemy Moriarty, who leads an army of zombies. The epic fight between the Doylean hero and his nemesis in Victorian Undead reproduces paradigmatically the clash between good and evil, leading to a final confrontation between the two. The villain's headquarters is located in the renowned and recognisable criminal quarter of Whitechapel, suggesting an implicit connection with Jack the Ripper's murders and with their enduring popular myth.
Sherlock Holmes has encountered and fought against Jack the Ripper in various media contexts. A Study in Terror (1965) is a movie directed by James Hill in which Holmes finally discovers the identity of the Ripper, whereas Murder by Decree is a 1979 British-Canadian movie directed by Bob Clark. The movie is loosely based on Elwyn Jones and John Lloyd's book The Ripper Files (1975). Moreover, a videogame for Microsoft and Xbox 360 entitled Sherlock Holmes vs Jack the Ripper has been developed by Frogwares in 2009. However, the Ripper's murders have not always been associated with Englishness and London (with walking tours organised daily in Whitechapel, Spitalfields and the East End to evoke the gruesome deeds of Jack the Knife). At first, and soon after the murders, the identity of the Ripper was usually defined as non-British: the murderer was labelled as an American, as a Jewish (John Pitzer, a butcher known as 'leather apron'), a German body thief, a Russian doctor and even a Malay sailor. It was therefore unthinkable that a representative of the Empire could have committed such terrible crimes, and it was almost natural to blame a foreigner. Only later Jack the Ripper's identity was associated with London and to its geography, which seemed to mimic the serial murder's labyrinthine psyche. 21 Again, by choosing Whitechapel as Moriarty's headquarters, Edginton and Fabbri's cultural stance in Victorian Undead reverberates the words adopted by Sinclair with reference to Jack the Ripper's crimes in White Chappell, Scarlet Tracings. During a conversation between Sinclair and Joblard in their search for the Whitechapel murderers, Sinclair concludes that '[the] Whitechapel deeds cauterised the millennial fears, cancelled the promise of revelation' (Sinclair 2004, p. 51). The overtones of these words echo the ones adopted in Victorian Undead by Moriarty in his Whitechapel retreat, who—in comparing the city to a body that needs to be purified—maintains that '[the] city stirs, its veins and arteries already pulsing, thick with life! A myriad mundane souls, the great swell of humanity here in this heart of empire, torpid with its own arrogance and vanity! […] But I shall reacquaint this city […]. I shall teach it fear!' (Edginton and Fabbri 2010, p. 59). Despite the fact that Edginton and Fabbri's ideological perspective replicates a typically late Victorian notion of crime as coming from the 'periphery' of Empire (and of London), Victorian Undead adapts the Holmesian cultural and literary heritage to the social panic of the contemporary world. Inequality and unrest
Download


Copyright Disclaimer:
This site does not store any files on its server. We only index and link to content provided by other sites. Please contact the content providers to delete copyright contents if any and email us, we'll remove relevant links or contents immediately.