Dear Life: Stories by Alice Munro
Author:Alice Munro [Munro, Alice] , Date: March 25, 2014 ,Views: 1470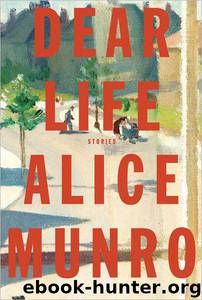 Author:Alice Munro [Munro, Alice]
Language: eng
Format: epub, mobi
ISBN: 9780307961044
Google: XvOzTB56MrAC
Amazon: B0084TWN9K
Publisher: Random House Digital, Inc.
Published: 2012-11-13T08:00:00+00:00



"How would Lillian know a silver-fox collar from a hole in the ground?" Corrie said, when he felt that he had to relay the news to her. "Are you sure that's what she said?"
"I'm sure."
He had burned the letter at once, had felt contaminated by it.
"She's learned things, then," Corrie said. "I always thought she was sly. I guess killing her is not an option?"
He didn't even smile, so she said very soberly, "I'm just kidding."
It was April, but still cold enough that you would like to have a fire lit. She had planned to ask him to do it, all through supper, but his strange, somber attitude had prevented her.
He told her that his wife hadn't wanted to go to that dinner. "It's all just pure rotten luck."
"You should have taken her advice," she said.
"It's the worst," he said. "It's the worst that could happen."
They were both staring into the black grate. He had touched her only once, to say hello.
"Well, no," Corrie said. "Not the worst. No."
"No?"
"No," she said. "We could give her the money. It's not a lot, really."
"I don't have—"
"Not you. I could."
"Oh, no."
"Yes."
She made herself speak lightly, but she had gone deathly cold. For what if he said no? No, I can't let you. No, it's a sign. It's a sign that we have to stop. She was sure that there'd been something like that in his voice, and in his face. All that old sin stuff. Evil.
"It's nothing to me," she said. "And, even if you could get hold of it easily, you couldn't do it. You'd feel you were taking it away from your family—how could you?"
Family. She should never have said that. Never have said that word.
But his face actually cleared. He said, No, no, but there was doubt in his voice. And then she knew that it would be all right. After a while, he was able to speak practically and he remembered another thing from the letter. It had to be in bills, he said. She had no use for checks.
He spoke without looking up, as if about a business deal. Bills were best for Corrie, too. They would not implicate her.
"Fine," she said. "It's not an outrageous sum, anyway."
"But she is not to know that we see it that way," he warned.
A postal box was to be taken, in Lillian's name. The bills in an envelope addressed to her, left there twice a year. The dates to be set by her. Never a day late. Or, as she had said, she might start to worry.
He still did not touch Corrie, except for a grateful, almost formal good-bye. This subject must be altogether separate from what is between us, was what he seemed to be saying. We'll start fresh. We will be able again to feel that we're not hurting anybody. Not doing any wrong. That was how he would put it in his unspoken language. In her own language she made one half-joke that did not go over.
"Already we've contributed to Lillian's education—she wasn't this smart before.
Download


Copyright Disclaimer:
This site does not store any files on its server. We only index and link to content provided by other sites. Please contact the content providers to delete copyright contents if any and email us, we'll remove relevant links or contents immediately.