Dead Wrong by Richard Belzer
Author:Richard Belzer , Date: August 6, 2020 ,Views: 409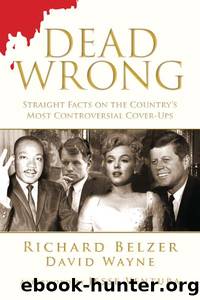 Author:Richard Belzer
Language: eng
Format: epub
Publisher: Skyhorse Publishing



Courtesy of Saint John Hunt, www.SaintJohnHunt.com
Johnson's deep resentment of President Kennedy is well-documented. Sometimes a picture really is worth a thousand words—check out the two which follow:
Employing French mafia for the assassination would be consistent with the documentation from Bill Harvey, leader of the U.S. assassinations unit and a man who, for obvious reasons in that profession, left very little in writing. But the following notation from Harvey did survive:
"William Harvey's notes recommend using Corsicans, since 'Sicilians could lead to the Mafia''319
Michel Mertz, a ruthless professional assassin for the Corsican Mafia who often used the alias of his arch-enemy and former freedom-fighter Jean Souetre, is often mentioned as the Corsican assassin that "Wild Bill" Harvey hired.
"Mertz was part of the French Corsican Mafia, though not Corsican himself (the same way the Jewish Jack Ruby worked for the Mafia)."320
There is evidence that Mertz was in Dallas on November 22, 1963, again using Souetre as his alias.321
"Twenty-four parallels (lettered A-X) between the CIA's acknowledged European assassin recruiter (1960 to 1964) code-named QJWIN and Michel Victor Mertz, whom a CIA memo said was deported from Dallas shortly after JFK's murder. Michel Mertz was an experienced assassin and a kingpin for the French Connection heroin network that involved both Carlos Marcello and Santo Trafficante."322
This mix of professional assassins and renegade Intelligence agents from the anti-Castro project in Florida appears to be responsible for the ambush in Dealey Plaza that was orchestrated with military precision. It should be noted that the U.S. Military Intelligence team that attempted to stop the assassination was looking for exactly that: A military-style ambush with 3 shooter teams in triangulated fire from the north knoll, south knoll, and the area of the Dal- Tex Building. They arrived too late and had bad communication between team members that day—and we know what happened then.323
The fact that the Military Intelligence abort team flew Johnny Roselli into Dallas on the morning of the assassination is a highly probable indication that Roselli (who in addition to being hooked up with the Chicago Mob, was also very hooked up with U.S. Intelligence and its anti-Castro ops) was crucial in the penetration of the plot to kill JFK. The intent of bringing him to Dallas with the abort team is indicative that he was to inform his co-conspirators that the game was up and to abort the assassination. Johnny Roselli apparently did what U.S. intelligence had told him to do, bringing in that message—right into Dealey Plaza itself—that "the CIA had called the hit stopped."324 As a result, Roselli also reportedly balked at being specifically involved in the shooting. As Chuck Nicoletti, the premier hit man in the entire country at the time, put it:
"Well, he doesn't want to go against the orders of the CIA. What he wants, he wants to call it off. He flew in here as an abort team. They flew a plane in here especially with him on it, to tell us to call it off."325
U.S. intelligence knew about the assassination
Download


Copyright Disclaimer:
This site does not store any files on its server. We only index and link to content provided by other sites. Please contact the content providers to delete copyright contents if any and email us, we'll remove relevant links or contents immediately.