Cyber Attacks and International Law on the Use of Force: The Turn to Information Ethics by Samuli Haataja
Author:Samuli Haataja [Haataja, Samuli] , Date: August 7, 2022 ,Views: 13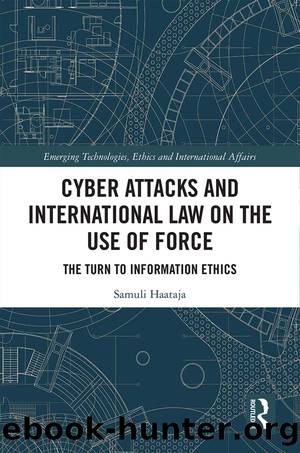 Author:Samuli Haataja [Haataja, Samuli]
Language: eng
Format: epub
Tags: International Relations, Terrorism, International, Political Science, Law, General
ISBN: 9781351057004
Google: 0AB-DwAAQBAJ
Goodreads: 39205920
Publisher: Routledge
Published: 2018-12-07T07:59:27+00:00



5 The 2007 cyber attacks against Estonia
Introduction
In April and May 2007, Estonia became a victim of what the head of the US diplomatic mission to Estonia at the time described as 'the world's first cyber attacks against a nation state'.1 In the media, the incident was widely described as a cyber war2 and Estonia's president later referred to the incident as 'Web War One'.3 Estonia was subjected to a series of cyber attacks in response to its government's decision to relocate a politically contentious war memorial statue. These attacks targeted a range of websites, including those of government departments and banks, as well as Internet Service Providers (ISPs) and the national Domain Name Service (DNS). The attacks were primarily disruptive, as a range of services were rendered temporarily unavailable, but they did not cause damage to physical objects or injury to human beings. Despite initial allegations by Estonian officials that Russia was responsible for the attacks, Russia has denied its involvement.4
This chapter considers the 2007 cyber attacks against Estonia to demonstrate that an informational approach offers a means by which to overcome the law's ontological constraints that limit its capacity to recognize non-material cyber attacks as a form of violence. The first section of the chapter examines the 2007 attacks against Estonia in detail, looking at the events, the methods of attack, the effects, Estonia's immediate responses to the attacks, and how Estonian officials characterized the incident. The chapter then considers existing legal analyses of the cyber attacks against Estonia in light of the law on the use of force. It demonstrates how the law's limited conception of violence is evident in the orthodox interpretation of the law on the use of force and its application to the incident. The final section adopts an informational approach, to consider Estonia as an information entity that was subject to cyber attacks causing entropy.
Download


Copyright Disclaimer:
This site does not store any files on its server. We only index and link to content provided by other sites. Please contact the content providers to delete copyright contents if any and email us, we'll remove relevant links or contents immediately.