Cross of Snow by Nicholas A. Basbanes
Author:Nicholas A. Basbanes [Basbanes, Nicholas A.] , Date: June 3, 2020 ,Views: 68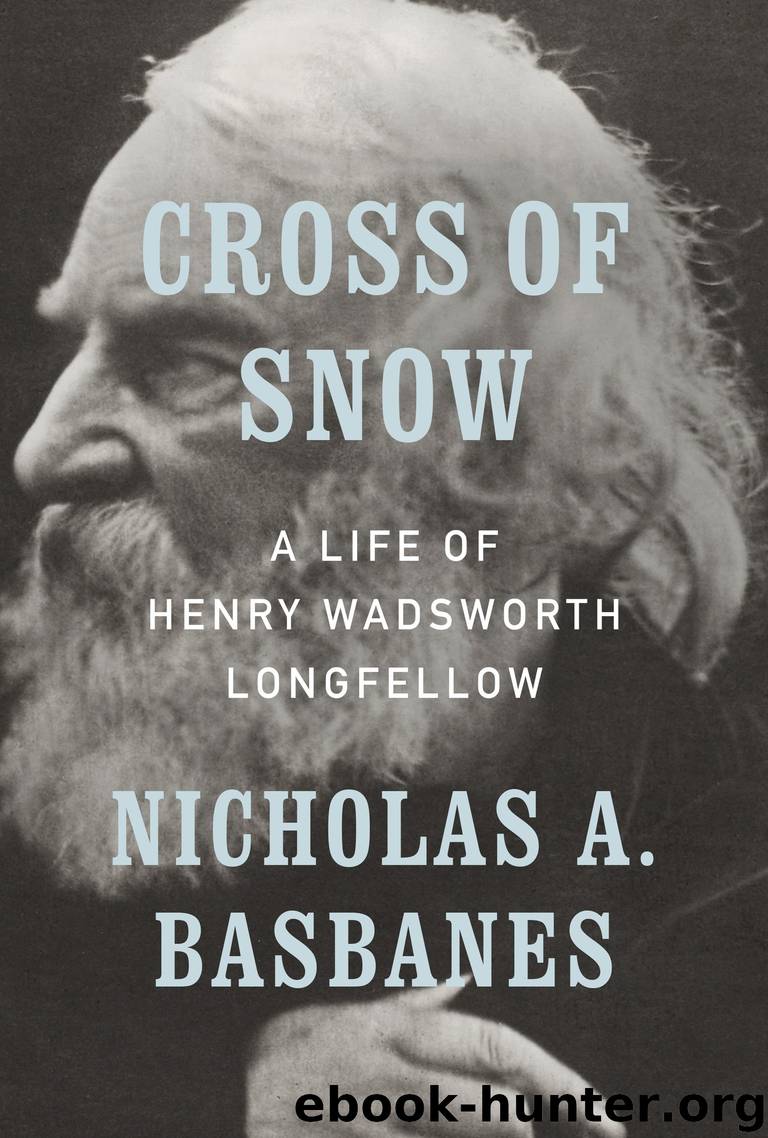 Author:Nicholas A. Basbanes [Basbanes, Nicholas A.]
Language: eng
Format: epub
Publisher: Knopf Doubleday Publishing Group
Published: 2020-06-02T00:00:00+00:00



* * *
—
AMONG THE HUNDREDS of domestic objects preserved in the Craigie House storage compartments are numerous playthings and items of children's apparel, the most affecting to my eyes a tiny pair of scuffed leather shoes formerly worn by Little Fanny, who died seven months shy of her second birthday on September 11, 1848, after a short illness. We know very little about the girl other than that she was sweet-tempered and a joy to her parents and brothers.
"My courage is almost broken," Fanny wrote in "Chronicle of the Children of Craigie Castle" ten days into a sudden illness the family doctor vaguely described as "congestion on the brain." Watching her daughter slowly "sinking, sinking, away from us" was a period of "agony unutterable." At length she held Little Fanny's hand, "heard the breathing shorten, then cease without a flutter." Fanny "cut a few locks from her holy head"—there is one in the Craigie House storage vault—and had the child placed in the library "with unopened roses about her, one in her hand, that little hand which always grasped them so lovingly." Following services in the home, she was buried in the family plot at Mount Auburn Cemetery. Fanny confessed to having a "terrible hunger of the heart" to hold her namesake once again. "Every room, every object recalls her—and the house is desolation."
Henry described his daughter's funeral with equal poignancy: "Our little child was buried to-day. From her nursery, down the front stairs, through my study and into the library, she was borne in the arms of her old nurse, and thence, after prayers, through the long halls to her coffin and her grave, henceforth and forever to me a Via Dolorosa! For a long time, I sat by her alone in the darkened library. The twilight fell softly on her placid face and the white flowers she held in her little hands. In the deep silence, the bird sang from the hall, a sad strain, a melancholy requiem. It touched and soothed me."
Fanny would give birth to three more children, all girls—Alice Mary arriving in 1850, Edith in 1853, Anne Allegra in 1855—and each would live a full, productive life, even capture the public's fancy in "The Children's Hour," a ten-stanza poem of domestic fulfillment published in The Atlantic Monthly seven months before the first shots were fired on Fort Sumter, a pleasant corrective, editor James Fields had astutely predicted, to the prevailing sense of gloom and impending disunion for the "parental public." With several phrases that endure in daily discourse, the origin unknown to the overwhelming majority of those who use them—notably "the patter of little feet," "voices soft and sweet"—the poem was universally embraced, the appealing notion of three little girls and their nightly romp down a grand stairway into Papa's welcoming lap striking a soothing tone:
From my study I see in the lamplight,
Descending the broad hall stair,
Grave Alice, and laughing Allegra,
And Edith with golden hair.
Download


Copyright Disclaimer:
This site does not store any files on its server. We only index and link to content provided by other sites. Please contact the content providers to delete copyright contents if any and email us, we'll remove relevant links or contents immediately.