Collected Works, Volume 3 by V. I. Lenin;
Author:V. I. Lenin; , Date: March 6, 2020 ,Views: 221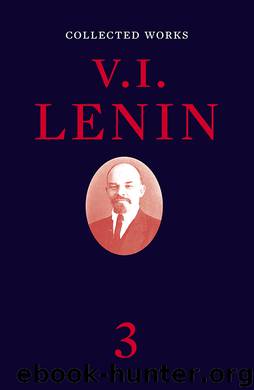 Author:V. I. Lenin;
Language: eng
Format: epub
Publisher: Penguin Random House LLC (Publisher Services)



8) The Metal Trades. The Pavlovo Industries
The celebrated Pavlovo lock and cutlery industries cover the whole of Gorbatov Uyezd, Nizhni-Novgorod Gubernia, and Murom Uyezd, Vladimir Gubernia. These industries originated very long ago. Smirnov states that as far back as 1621 there were (according to the cadastres137) 11 smithies in Pavlovo. By the middle of the 19th century these industries constituted a far-flung network of fully developed capitalist relations. After the Reform, the industries in this district continued to develop and expand. According to the Zemstvo census of 1889, in Gorbatov Uyezd 13 volosts and 119 villages were engaged in industry; a total of 5,953 households, 6,570 male workers (54% of the total number working in these villages) and 2,741 old men, juveniles and women, 9,311 persons in all. In the Murom Uyezd, Mr. Grigoryev in 1881 registered 6 industrial volosts, 66 villages, 1,545 households and 2,205 male workers (39% of the total number working in these villages). Not only were large, non-agricultural industrial villages formed (Pavlovo, Vorsma), but even the surrounding peasants were diverted from agriculture: outside of Pavlovo and Vorsma, in Gorbatov Uyezd, 4,492 persons were engaged in industries, of whom 2,357, or more than half did not engage in agriculture. Life in centres like Pavlovo has become quite urban and has given rise to incomparably more developed requirements, more cultured environment, clothes, manner of life, etc., than among the surrounding "raw" peasants.*
Turning to the economic organisation of the Pavlovo industries, we must first of all note the indubitable fact that the "handicraftsmen" are headed by the most typical capitalist manufactories. For example, in the Zavyalovs' establishment (which already in the 60s employed over 100 workers at the bench and has now introduced a steam-engine) a penknife passes through 8 or 9 hands: the forger, blade-maker, handle-maker (usually an outside worker), hardener, facer, polisher, finisher, grinder and marker. This is extensive capitalist co-operation based on division of labour, with a considerable number of the workers performing individual operations employed at home and not in the capitalist's workshop. Here are facts given by Mr. Labzin (in 1866) on the bigger establishments in the villages of Pavlovo, Vorsma and Vacha, covering all branches of production in this district: 15 proprietors had 500 workers occupied on the premises and 1,134 workers outside, making a total of 1,634, with an output totalling 351,700 rubles. How far this description of economic relations is applicable to the whole district at the present time may be seen from the following data*:
Download


Copyright Disclaimer:
This site does not store any files on its server. We only index and link to content provided by other sites. Please contact the content providers to delete copyright contents if any and email us, we'll remove relevant links or contents immediately.