Clue by Michael McDowell
Author:Michael McDowell [McDowell, Michael] , Date: August 31, 2020 ,Views: 403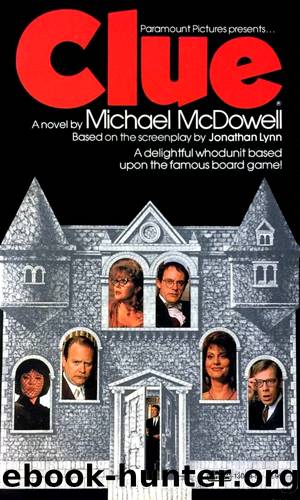 Author:Michael McDowell [McDowell, Michael]
Language: eng
Format: epub
Tags: Movie Novelization, Fiction, Mystery, Comedy, Media Tie-In
ISBN: 9780449130490
Google: fqsxAgAACAAJ
Amazon: 0449130495
Publisher: Fawcett
Published: 1985-11-12T06:00:00+00:00



Chapter Twelve
Yvette put her hands to her check, as if to hide a blush — or as if to hide the fact that she wasn't blushing at all. The other ladies glowered. Colonel Mustard, Professor Plum, and Wadsworth looked sheepishly at one another.
"I suggest we draw lots for partners," said Wadsworth with recovered dignity.
From the mantelpiece he took a box of eight-inch matches, and walked out of the room, gesturing for the others to follow.
The group came quietly out into the hall, and saw Wadsworth enter the kitchen. Silently they followed, casting curious glances toward the door of the lounge, as if wondering that the motorist had not yet tried to escape from the locked room.
They quietly pushed open the door of the kitchen, and went inside. Wadsworth stood at the center table with his back to them, in the act of shutting a drawer.
Mrs. Peacock went straight up to him, "Wadsworth, I still don't think —"
He turned on Mrs. Peacock with a carving knife.
It was black-handled, steel-bladed, and sharp. It glinted in the light, as if Mrs. Ho's last act on earth had been to polish it to exemplary brightness.
Mrs. Peacock gasped and fell back.
"Ready?" asked Wadsworth.
The others stared. "Ready for what?" Professor Plum asked at last. "Are we ready to die?"
"No," said Wadsworth, "are we ready to choose straws?"
He turned back to the counter and began to cut eight matches from the box into pairs of varying lengths. Then he arranged the matches in his hand so that it was impossible to tell which were long and which were short.
Wadsworth thought for a moment, then decided, "Each of us will take a match and find its partner. Agreed? And let's say the two shortest search the cellar, and so on up."
No one stepped forward. Wadsworth casually plucked out one of the matches. It appeared to be a longish one. "Mrs. Peacock?" he asked politely.
Mrs. Peacock hesitantly stepped forward and drew a match from Wadsworth's fist. She had chosen what appeared to be one of the very shortest. She trembled, and fell back.
Then the rest of the ladies came forward: Mrs. White, Miss Scarlet, and Yvette. Then the gentlemen: Mr. Green, Professor Plum, and Colonel Mustard.
Comparing lengths, Professor Plum looked out for his partner. He grinned smarmily and elbowed Mrs. Peacock in the ribs. "It's you and me, honey."
"Yuck!" cried Mrs. Peacock. The expression wasn't one she cultivated, but it sprang instantly to her lips nevertheless. "Why don't we all search the house together?" she suggested, with a hint of desperation in her voice.
"We haven't the time," said Wadsworth. "Find your partners, and let's go."
Download


Copyright Disclaimer:
This site does not store any files on its server. We only index and link to content provided by other sites. Please contact the content providers to delete copyright contents if any and email us, we'll remove relevant links or contents immediately.