Close to the wind by Goss Pete
Author:Goss, Pete , Date: November 20, 2023 ,Views: 31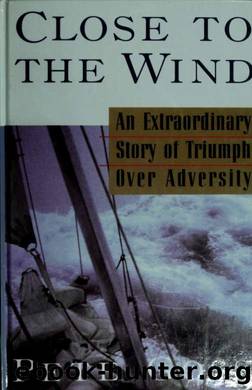 Author:Goss, Pete
Language: eng
Format: epub, pdf
Tags: Vendee Globe (Yacht race), Large type books
Publisher: Thorndike, Me. : G.K. Hall
Published: 1999-11-15T00:00:00+00:00



the food and it had been flooded. I decided to do nothing but drink sweet tea for four days in order to shrink my stomach — a Rolo would feel like a banquet after that. Without any weather information I would be forced to follow the shortest route to the finish. Losing the radio was a bigger blow than losing the food — I would undoubtedly give away many of those hard-earned miles in the fickle conditions of the eastern seaboard.
I plotted the race positions to find that, thanks to fannying about bailing out the aft compartment, I had already lost a lot to Giovanni. I was determined to stay in contention. We were second in class and third overall, and if I was lucky we might just hold on to it. I got back to the job and started to feel hungrier by the hour as my body began to recover from the storm. I think the first forty-eight hours were the worst for hunger pangs, after that I just felt permanently washed out as I tried to work the boat as hard as I could. The wind died away that night, the positions showed that the leaders were slipping away and the pack behind was closing in. It was very demoralising: I was piss-wet through, cold and starving.
During the night the wind picked up from the east. I hoisted the spinnaker and we started to make excellent speed. If I pushed the boat hard enough I might just break out of the limbo I was in and join the front runners again. It was shit or bust and I wasn't going to back off for
Download


Copyright Disclaimer:
This site does not store any files on its server. We only index and link to content provided by other sites. Please contact the content providers to delete copyright contents if any and email us, we'll remove relevant links or contents immediately.