Breath by James Nestor;
Author:James Nestor; , Date: June 6, 2020 ,Views: 1306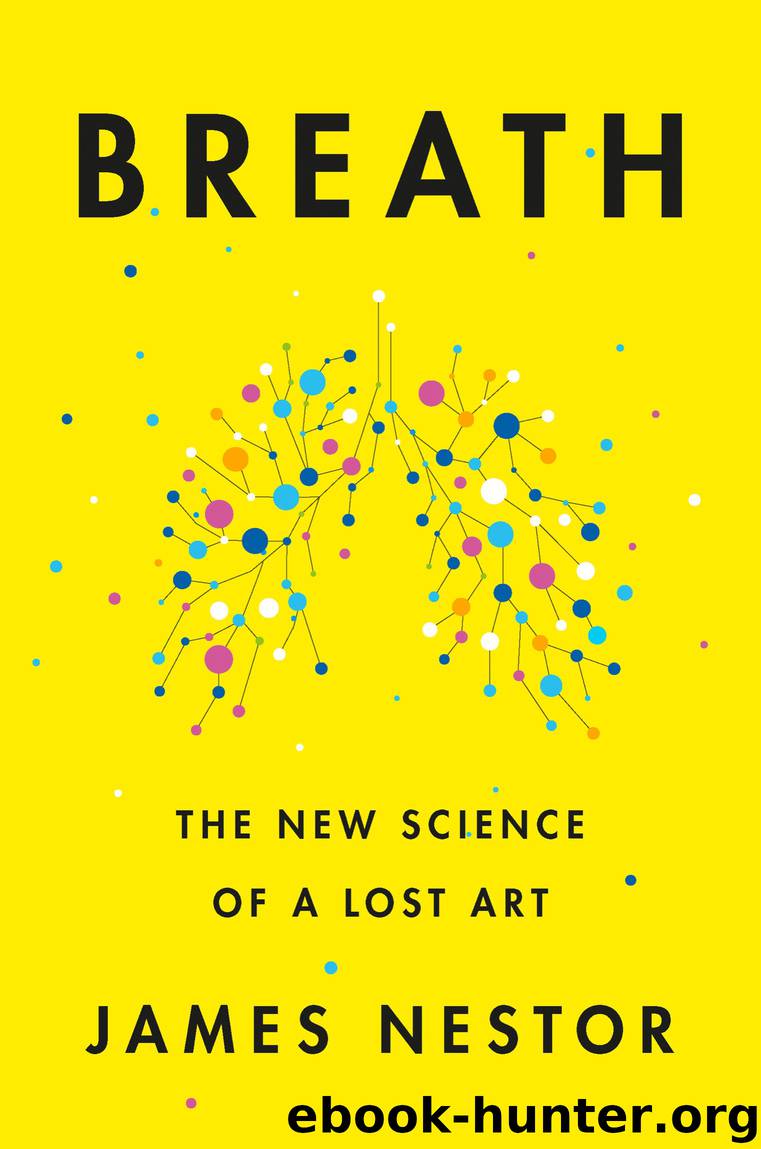 Author:James Nestor;
Language: eng
Format: epub, mobi, azw3
Publisher: Penguin Random House LLC
Published: 2020-05-25T16:00:00+00:00



* * *
• • •
On a crisp fall day I drove a few hours north of Grof's home to a hot springs resort tucked beneath the shade of ancient redwoods. There were dusty yurts, heavily bearded men in toe shoes, women in braids wearing turquoise, homemade granola in Mason jars. It was exactly the kind of scene I'd expected. What I didn't expect were the corporate lawyers, architects in pressed polo shirts, and muscle men in military-style flattops who had also gathered here.
A dozen of us walked into an activity room of a dormitory. Half the group lay down on the floor and prepared to breathe while the other half, the sitters, watched over them. I volunteered to be a sitter for a man named Kerry, who wore Armani glasses and asked me not to touch him during the session because he feared any contact might burn his skin.
The music started, a predictable mix of thumping techno with reverberating lutes and Arabic maqam yodels. What happened next was predictable, too. The business folks breathed heavily and wiggled around on their mats but mostly kept calm and to themselves. Meanwhile, the natural healers in the group went apeshit.
After just a few minutes of breathing, a big man named Ben, who lived off the grid in a cabin a few miles up the mountain, sat up and stared in awe at the palms of his hands as if he were holding a magic Hobbit stone. A few more breaths and Ben began snorting and scratching his crotch. He growled and howled like a wolf, then took off around the room on all fours. The therapists running the session snuck up behind Ben and wrestled him to the floor. They sat on him until he transmogrified back into a human.
Behind Ben, a woman named Mary jabbed her eyes with her knuckles and screamed for her mother. "I want my mommy. I hate you, Mommy. I want my mommy. I hate you, Mommy," she sobbed in an alternating devil-and-baby voice. She wormed to a corner and curled up like an abused dog. This went on for two hours.
I couldn't help but notice that neither Mary nor Ben were breathing any faster or deeper than anyone else; they weren't breathing any faster than me, and I was just sitting there calmly watching this scene unravel.
Download


Copyright Disclaimer:
This site does not store any files on its server. We only index and link to content provided by other sites. Please contact the content providers to delete copyright contents if any and email us, we'll remove relevant links or contents immediately.