Cities at War by Mary Kaldor
Author:Mary Kaldor , Date: June 30, 2020 ,Views: 114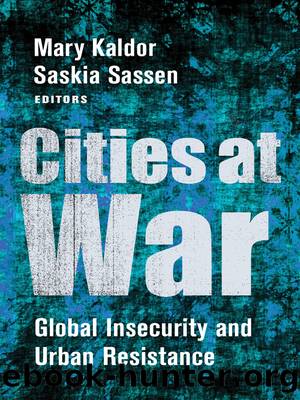 Author:Mary Kaldor
Language: eng
Format: epub
Tags: HIS027130, History/Military/Wars & Conflicts, POL012000, Political Science/Security (National & International)
Publisher: Columbia University Press
Published: 2020-03-30T00:00:00+00:00



Perhaps the greatest ambiguity to be resolved is how to view the frontier that has shaped so much of Juárez's history and culture. For over a hundred years, decisions about the city have been based on the border "as an unending resource and eternal comparative advantage."43 This perception was entrenched with the growth of Juárez as a global manufacturing hub. Since 2001, the "border as resource" has been challenged by a counternarrative that presents it as a threat to U.S. and global security, overlooking the economic benefits from proximity to cheap labor on the Mexican side of the frontier and from migrations that have boosted the population resource on the American side.44
Trump has rejected both premises and staked his presidency on the counternarrative of threat and harm. Juaresenses who sometimes spend hours queuing to pass customs and immigration controls, or who are denied transit altogether, view the border as both an asset and a curse. It is also a reminder of the gulf in welfare between one side of the Rio Grande and the other, which has widened since 2007.
Juárez is a continuously impermanent city. Nowhere better represents this shifting nature than El Chamizal, the park at the border. Once part of Texas, it was fought over as a symbol of territorial sovereignty by both countries. In the worst days of the drug violence, it became notorious as a dumping ground for corpses by the cartels, a reminder of the struggle between organized crime and citizens for control of public space. After 2012, Juaresenses began returning to picnic under its trees and to play baseball. When the pope held an open-air mass at the frontier, he was formally greeted by a student chosen by local churches because he lives in Juárez but goes to school in El Paso.
The binomial metropolis might have been fractured and fragmented, riven by inequalities of power and prospects, wealth and security. But its citizens will continue to find ways—illegal and legal—of crossing its divides.
Download


Copyright Disclaimer:
This site does not store any files on its server. We only index and link to content provided by other sites. Please contact the content providers to delete copyright contents if any and email us, we'll remove relevant links or contents immediately.