China Panic: Australia's Alternative to Paranoia and Pandering by David Brophy
Author:David Brophy [Brophy, David] , Date: August 6, 2022 ,Views: 7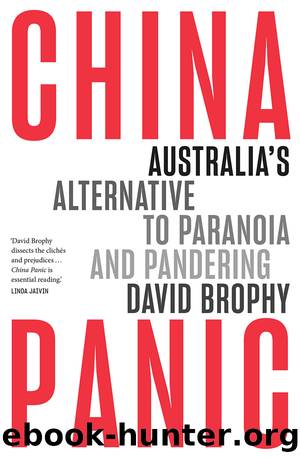 Author:David Brophy [Brophy, David]
Language: eng
Format: epub
Tags: International Relations, Geopolitics, Political Science, World, Asian, General
ISBN: 9781743821497
Google: XqjODwAAQBAJ
Publisher: Black Inc.
Published: 2021-06-01T07:03:50+00:00



6. HUMAN RIGHTS AND XINJIANG
That Beijing is clamping down on the freedoms of its citizens is evident across Chinese society today, but just how far it's willing to go to inoculate itself against dissent is clearest in the far north-western region of Xinjiang – a region some Uyghurs prefer to call Eastern Turkistan. The heightened repression in the Xinjiang Uyghur Autonomous Region (to give it its full, official name) and the mass detention of its Muslim, Turkic-speaking population, most of them Uyghur, has coincided with – and exacerbated – the downturn in Sino–Western diplomacy. The once obscure territory has come to replace Tibet, or the Falun Gong, as the most talked-about case of domestic repression in China. In almost any public discussion to do with China today – be it on trade policy or tech – the conversation is likely to turn to Xinjiang at some point. Many of these issues are implicated in the Xinjiang crisis directly; it casts a weighty moral shadow across the rest. Australian media has given the crisis wide coverage, with a moving Four Corners episode highlighting its impact on Australia's Uyghur population. ASPI's Xinjiang Data Project, using open-source data and satellite imagery, has produced a series of reports that have influenced policymaking worldwide.
Xinjiang is the part of China I am most familiar with, since I first began visiting and studying the region some twenty years ago. I've never known it to be a particularly happy place. Even two decades ago, to ask Uyghurs there about politics was to be met with an awkward laugh – as if we'd talk about that. But when I visited in 2017, before news of the 're-education' camps had broken, the stark change was obvious: new police stations at every major intersection, ubiquitous checkpoints on all main streets, public buildings ringed with razor wire, and flags and surveillance cameras everywhere. Even in outlying villages, loudspeaker broadcasts could be heard exhorting the Uyghurs to love the CCP and study Mandarin. In Kashgar, I saw elderly men and women trudging through the streets on anti-terror drills, and police holding up young men to check their phones for state-mandated spyware. In the city's main mosque, a portrait of Xi Jinping hung in the direction of Mecca. On a busy weekday, the city went into lockdown as a column of military vehicles and PLA soldiers reminded locals of their presence. It felt like a military occupation.
Human rights remains the dominant moral language of our time but has particular purchase in relation to China, where it serves as shorthand for all of the infringements on liberty that the CCP commits. Rights to freedom of expression and religion, freedom of movement, freedom from slavery and torture – these and more were part of the 1948 Universal Declaration of Human Rights. All are being violated to some degree in the CCP's ongoing efforts to mould the Uyghurs into loyal, reliable Chinese citizens.
We might also use other language to discuss Xinjiang. For Uyghurs, the deteriorating situation remains part of a story that has long centred on national rights.
Download


Copyright Disclaimer:
This site does not store any files on its server. We only index and link to content provided by other sites. Please contact the content providers to delete copyright contents if any and email us, we'll remove relevant links or contents immediately.