Burned by Sam McBride
Author:Sam McBride [McBride, Sam] , Date: February 16, 2020 ,Views: 212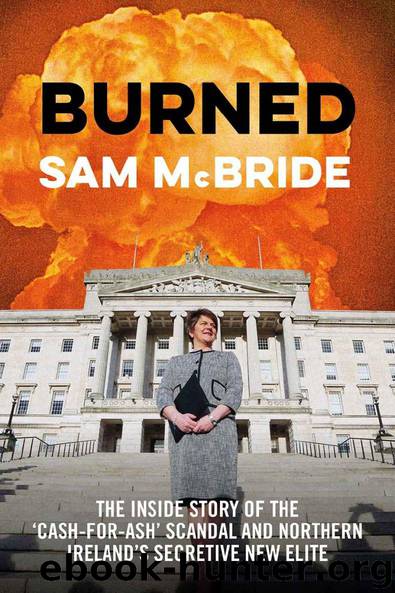 Author:Sam McBride [McBride, Sam]
Language: eng
Format: epub
ISBN: 9781785372698
Publisher: Merrion Press
Published: 2019-10-16T00:00:00+00:00



CHAPTER 14
YOU'RE ON YOUR OWN
On Friday, 13 November 2015, Tim Cairns was taking his children to a church kids' club when his phone rang. It was Arlene Foster, phoning on behalf of a constituent.
It was five days before the RHI cuts were to come before the Assembly. Foster, aware of the looming subsidy reduction, enquired whether it would be possible to delay the scheme being made less financially attractive. The reason, she said, was that one of her constituents, Stephen Harron, wanted to install six RHI boilers and would not be able to get them into the uncapped scheme without further time.
Harron, a salesman for Hegan Biomass, had phoned Foster, who was both his local MLA and, prior to entering politics, had been his solicitor, in an attempt to get what he said were clients' boilers into the uncapped scheme.
With one eye on his children, Cairns phoned Andrew McCormick and passed on the message, asking if it would be possible to delay the change by a week. McCormick said that he thought that would be impossible but that he would check. The senior civil servant said that he recalled Cairns referring to 'a concern that not enough businesses in Fermanagh [Foster's constituency] had been able to apply — there was certainly a reference to Fermanagh'. He said that Cairns had not mentioned Foster on the call, and it was the reference to Fermanagh that meant it was 'clear that the call was on behalf of Arlene Foster'. Neither Cairns nor Foster dispute that the request was made largely as McCormick had said, but disputed his reference to Fermanagh.
McCormick quickly consulted his deputy, Chris Stewart, and that night replied to Cairns that such a delay would cost £52 million over 20 years and that he would refuse to do so unless a ministerial direction was issued from Bell. Cairns passed the information to Foster and waited for what he described as 'instructions'. With the legislation due up in the Assembly in four days' time, there passed a weekend of what McCormick viewed as 'material uncertainty' over whether the changes would now go ahead on time, 'which was a genuine and serious concern'. On Monday, Cairns texted the permanent secretary to say that they were 'back from the brink' and there would be no further delay.
Although the request troubled McCormick, Cairns later said he 'didn't seriously believe' that Foster was asking for an extension but was just going through the motions of asking on behalf of her constituent. Regardless of whether that was her intent, it was particularly odd for Foster to have made any such request because she was the Finance Minister. Common sense would have told her that keeping the uncapped scheme open would increase the bill to taxpayers. However, Foster told the inquiry that she was unaware of the extent of the overspend and had not discussed the issue with Andrew Crawford, who had been aware of the problem for months. Foster said that if she had been aware of the scale of the problem she would not have made the request.
Download


Copyright Disclaimer:
This site does not store any files on its server. We only index and link to content provided by other sites. Please contact the content providers to delete copyright contents if any and email us, we'll remove relevant links or contents immediately.