Building Community by James S. Gruber
Author:James S. Gruber , Date: June 30, 2020 ,Views: 137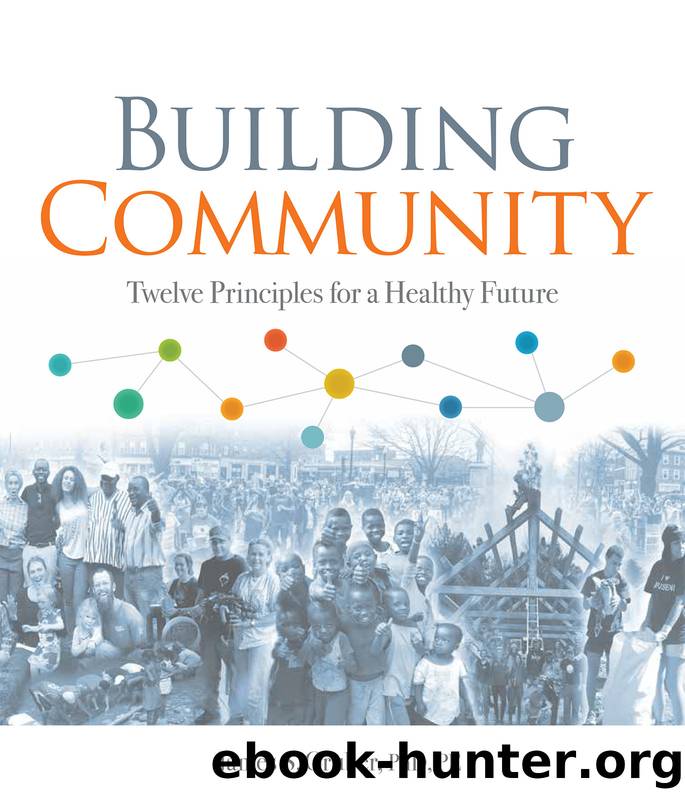 Author:James S. Gruber
Language: eng
Format: epub
Publisher: New Society Publishers



Goals, Challenges, Approaches, and Outcomes
Goals
Bring back the fish. Tribal staff and members stated one common goal time and again: restoring the salmon populations in the Elwha river. As a salmon people, the Klallam regard fish as integral to their cultural and economic needs. Interviewees talked about a longing for conditions that the generations who lived on the pre-dam river had known, with one elder describing the ideal restored river as "so thick with fish you can walk across their backs." The Lower Elwha Klallam Tribe's goals for the Elwha River restoration include:
• restoring local salmon populations
• revitalizing salmon traditions
• acquiring and accessing ancestral lands in the restoration project area
• strengthening economic development prospects such as commercial and subsistence fishing
Challenges
As the Elwha River flows from its headwaters in the Olympic Mountains, it passes through Olympic National Park, private lands, and finally reaches the Lower Elwha Klallam Tribe Reservation where it meets the Strait of Juan de Fuca. This patchwork of land ownership created through Klallam land takings, posed a significant challenge for restoration management. Maintaining a connection to land while also protecting oral traditions and narratives, healing practices, and family roles and responsibilities is a part of building resilience in Indigenous communities.17 For the Lower Elwha Klallam, the presence and operation of dams along their ancestral land of Elwha River has impeded their community resilience.
Approach
Tribal members and leaders recognized that the restoration would only be successful from their perspective if they played a significant role in restoration planning. Collaborative work has been a vital component of the dam removal and restoration process (A-B). The Tribal Council and staff worked to build relationships with restoration partners and involve tribal members in many aspects of the planning and implementation (A-B-F-J). For example, as the tribe and their partners continue scientific monitoring, Tribal Council and staff provide updates on fishing and beach access to community members through tribal newsletters, council meetings, and other public information sessions (D-E). Additionally, council-approved community research, such as the interviews we conducted, provides opportunities for community members to share their perspectives and ideas (A-H).
Tribal leaders have emphasized Klallam empowerment in restoration decision making and research that integrates scientific knowledge with local Klallam knowledge (F-E). Toward these ends tribal fisheries staff talked with tribal members and collected stories of historic fishing sites that they used to determine the placement of log jams downstream of the dam removal (G). Log jams in historic fishing sites can promote fish recovery and ecosystem health, help shape the flow of the river through the reservation, and promote revitalization of culturally important fishing sites.
Attention is paid to ensuring that feedback loops are used to further build the trust necessary for cooperation to continue (G-H). For example, in our interviews, the tribe's Natural Resource staff explained that they recognized the fishing moratorium placed a significant burden on the tribal members who need fish for subsistence. Because of this, the staff provides fish to the community when there is an abundance of hatchery fish. From our elder
Download


Copyright Disclaimer:
This site does not store any files on its server. We only index and link to content provided by other sites. Please contact the content providers to delete copyright contents if any and email us, we'll remove relevant links or contents immediately.