Break 'Em Up: Recovering Our Freedom From Big Ag, Big Tech, and Big Money by Zephyr Teachout
Author:Zephyr Teachout [Teachout, Zephyr] , Date: August 1, 2020 ,Views: 555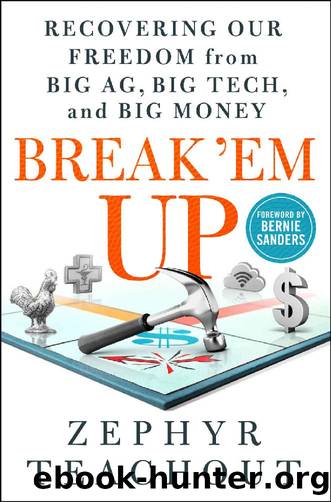 Author:Zephyr Teachout [Teachout, Zephyr]
Language: eng
Format: epub
Tags: Political Science, Corruption & Misconduct, Public Policy, Economic Policy, Social Science, Social Classes & Economic Disparity
ISBN: 9781250200891
Google: MPQ5yAEACAAJ
Amazon: 125020089X
Publisher: All Points Books
Published: 2020-07-28T06:00:00+00:00



While mainline economists may have missed the boat on monopoly power, as I describe in the last chapter, the men and women who make up the other half of the wage mystery—the inexplicably wealthy—understand it well. The 26 richest people in the world own $1.4 trillion in wealth, the same amount as the total wealth of the 3.8 billion poorest people.2 Most of them are Americans. Most are men. Most are white. Most of them made their money off monopolies: owning the market, not competing in it, is the best strategy for extracting wealth from workers, purchasers, and business partners alike.3
Look, for instance, at Bill Gates, Jeff Bezos, Mark Zuckerberg, Larry Ellison, Michael Bloomberg, Bernard Arnault, and Carlos Slim.4 Bill Gates' Microsoft money derives directly from the company's extraordinary profits from the 1980s to the 1990s. In a rare exception to decades of non-enforcement, Microsoft was found guilty of monopolization, in violation of the Sherman Antitrust Act. By then, Gates already had his wealth. If Microsoft's scheme had been stopped decades earlier, Bill Gates would not have been able to amass such wealth, build a foundation, and be in the position he is now, controlling much of philanthropy and shaping education policy.
As I explained in chapter 2, Jeff Bezos' Amazon wealth is a direct result of bad anti-monopoly enforcement and bad anti-monopoly theory; his much-vaunted genius at shipping good products is probably better understood as a genius for reading the weaknesses of antitrust law.5 Mark Zuckerberg earns monopoly profits in digital advertising because he has been able to buy up competitors—like WhatsApp—before they could challenge him. Oracle co-founder Larry Ellison made his money through acquisitions and dominance in high-end software applications, using mergers and contract law to lock in huge fees. Carlos Slim, with a net worth of $60 billion, got rich through a telephone company and cell tower monopoly in Mexico. Bernard Arnault, worth $100 billion, shares a duopoly in the luxury goods market, where his company owns, among other brands, Louis Vuitton, Sephora, Dior, Givenchy, Fendi, Bulgari, Hublot, Rimowa, and Veuve Clicquot. Michael Bloomberg became rich by developing the financial terminal, but he became a grotesquely wealthy billionaire because of weak antitrust enforcement, which allowed him to create a sprawling conglomerate and protect his position as a duopolist in financial information terminals and financial service messaging.6
In the populist era, the late nineteenth and early twentieth centuries, the collective power represented by the fat cats was sometimes called "the Money Power." The modern money power includes not only the above-mentioned men, but also men in finance: private equity managers, hedge fund managers, venture capitalists, and the CEOs of big banks.
One way to think about the financial markets is that they are the governing power behind the governing power of the monopolists, a central force that co-rules, relating to the biggest companies like the American federal government relates to the states, and relating to smaller companies as direct overlords. The seven men I listed above are unique even among big CEOs, because of the outsized power they have or had in directing their companies.
Download


Copyright Disclaimer:
This site does not store any files on its server. We only index and link to content provided by other sites. Please contact the content providers to delete copyright contents if any and email us, we'll remove relevant links or contents immediately.