Bolitho 10 - With All Despatch by Alexander Kent
Author:Alexander Kent [Kent, Alexander] , Date: October 26, 2020 ,Views: 8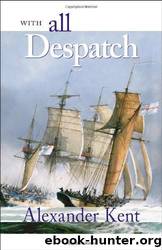 Author:Alexander Kent [Kent, Alexander]
Language: eng
Format: epub
Tags: Fiction:Historical
Publisher: Arrow
Published: 2011-06-19T13:01:11+00:00



11. Faces in the crowd
THE Golden Fleece Inn which stood on the outskirts of Dover was an imposing, weatherbeaten building, a place to change post horses, to rest a while after the rough roads around and out of the port.
Rear-Admiral Sir Marcus Drew waited for the inn servants to place his travelling chests in the adjoining room and walked to the thick leaded windows overlooking a cobbled square. He stared with distaste at groups of townsfolk who were chattering in the hot sunshine, some buying fruit or Geneva from women with trays around their necks.
It was just possible to see the harbour, or part of it, reassur-ing to know, as Drew did, that there were several small men-of-war at anchor there. On the way to the inn he had also found some comfort in the presence of scarlet-coated marines, or an occa-sional troop of stern-faced dragoons.
Nevertheless he felt uneasy here. But for a direct order he would still be in London, perhaps even with his young mistress. He turned away from the window as his secretary entered and paused to stare at him, wiping his small gold-rimmed spectacles with a handkerchief at the same time.
"Is it satisfactory, Sir Marcus?" He peered around the spa-cious room, and considered it a palace.
Drew snorted, "I dislike this place--the whole situation in fact." Coming here had stripped him of confidence, his accus-tomed sense of being in control. Usually he spent his days choosing officers for certain appointments; at other times he bowed to Their Lordships' whims and fancies by providing favours for oth-ers he might inwardly have regarded as useless.
Now here, to Dover. He scowled. Not even Canterbury where there was at least some social life, or so he had heard. Dover seen from within and not through the eyes of some homeward-bound sailor was too rough and ready, with an air of instability to match it. But for the great castle casting its timeless gaze across the har-bour and the approaches, he would have felt even more uncertain.
The secretary offered, "Captain Richard Bolitho has arrived, Sir Marcus." He laid his head on one side. "Shall I--"
"No! Have him wait, dammit! Fetch me a glass of something."
"Brandy, Sir Marcus?"
The rear-admiral glared at him. "Don't make mock of me, sir! The brandy is quite likely contraband--I want no part of it!"
He controlled his temper. It was not his secretary's fault. Another thought pressed through his mind. Besides, the man knew about his little affair. He said in a more reasonable tone, "Fetch me what you will. This place . . . it downs my heart."
The elderly secretary moved to the windows and stared at the crowd, which within half-an-hour had doubled. There was music down there, some masked dancers bobbing through the crowd, probably picking pockets as they went, he thought.
At the far side of the square was a great cluster of horses, each held by a red-coated soldier. They looked wary, while their two officers paced back and forth in deep conversation.
He shifted his gaze to the crude scaffold, a man who was obviously a carpenter putting finishing touches to it.
Download


Copyright Disclaimer:
This site does not store any files on its server. We only index and link to content provided by other sites. Please contact the content providers to delete copyright contents if any and email us, we'll remove relevant links or contents immediately.