Becoming Boston Strong by Amy Noelle Roe
Author:Amy Noelle Roe , Date: April 5, 2019 ,Views: 794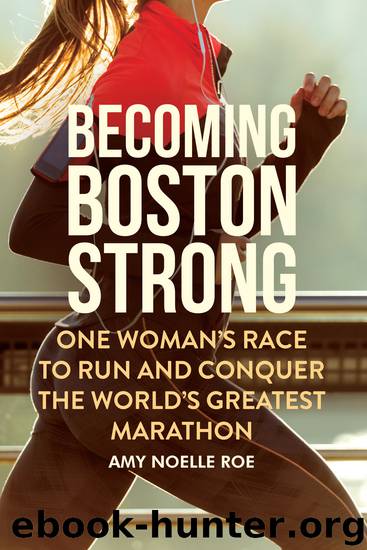 Author:Amy Noelle Roe
Language: eng
Format: epub
ISBN: 9781510741706
Publisher: Skyhorse
Published: 2019-02-25T16:00:00+00:00



CHAPTER EIGHTEEN
Get It in Writing
AS SOON AS I lean back onto the padded table, I realize it's a mistake. My knees lock at a 90-degree angle. I let out a shriek. A member of the medical team tries to massage my legs, but I can't stand to be touched and fear I'll kick him the next time I'm hit with a cramp.
I can't read my watch.
What was my time? What was my time? No one is listening to me. Or maybe I'm not actually speaking?
I sit up, surveying my surroundings, the medical tent of the 2010 Eugene [Oregon] Marathon. So many different scenes of suffering play out before me, it's like a painting by Hieronymus Bosch. Half-naked bodies sprawl on white sheets. One of them writhes in pain. Another slowly rolls over, letting out an anguished moan.
A kindly volunteer removes my running cap, which is soaked with sweat, and hands me a towel. I press my face into it and focus on relaxing my muscles. Someone insists I drink a bottle of water, and some Gatorade, and I dutifully lean forward to get it all down, then put the towel back over my face.
I don't need to be here. The medical tent is a sign something is wrong. And I just had the race of my life, ran 3:44, and qualified for Boston. Wait: Did I?
I take deep breaths, yoga-class breaths. My legs tremble. Out of the corner of one eye, I can see rows of cots full of people much worse off than I am.
The medical volunteer kneads my legs a little more. It's uncomfortable, but I know he's only trying to help. I try not to fight him.
After a few interminable minutes, the cramps subside. Dan must be waiting and wondering about me. He's probably worried. I say I feel okay to go, but the medical staff insists I wait a little longer, drink a little more.
I can't wait to get out of this place.
Someone is moaning again. The cots are nearly full; I should leave.
I did this to myself. What a way to spend a weekend. What a way to spend my life.
I started the race brimming with confidence, determined to follow the plan I'd written in Sharpie on my arm. Whenever it looked like I might be going too fast, I adjusted my speed with a surgeon's precision. But at mile 23, the pace that had for so long seemed too easy suddenly felt impossible.
After crossing the finish line, I went into a stiff-legged walk. My arm extended, I'd been thinking I could support myself on a chain link fence. But my depth perception was off; the fence was well out of reach. My hand dangled in mid-air, grasping for something when nothing was there.
A volunteer came over and put her arm around me. I wanted to keep walking, but she had other ideas. Now here I am among those whose bodies have truly betrayed them. I'm not really one of them, at least.
At last, a medical volunteer finally clears me to go.
Download


Copyright Disclaimer:
This site does not store any files on its server. We only index and link to content provided by other sites. Please contact the content providers to delete copyright contents if any and email us, we'll remove relevant links or contents immediately.