American Architecture by Leland M. Roth
Author:Leland M. Roth , Date: June 30, 2016 ,Views: 623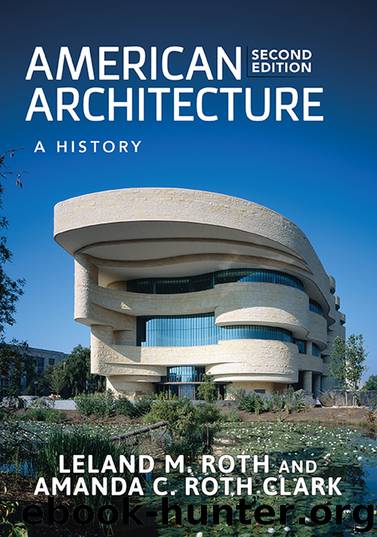 Author:Leland M. Roth
Language: eng
Format: epub
ISBN: 9780813350073
Publisher: Westview Press
Published: 2016-03-29T16:00:00+00:00



8.35. Eliel Saarinen, Tribune Tower competition entry, 1922. Saarinen's entry in the Tribune Tower competition was felt by many architects to be superior to the design given first prize. It would influence subsequent American building design for the next two decades. (From The International Competition for a New Administration Building for the Chicago Tribune Tower, Chicago, 1923.)
Chapter 8
Nostalgia and the Avant-Garde, 1915–1940
Architecture for a New Century
The years between 1915 and 1940 were the years between "the war to end all wars" (the First World War) and the even more catastrophic global conflict that came to be called the Second World War. After the end of the first global conflict, during the 1920s and 1930s, while Europe roiled with political intrigue and turmoil, the United States withdrew into a shell of isolationism and endeavored to return as quickly as possible to business as usual.
Historical periods are often defined by economic shifts coinciding with major military conflicts, largely because during a war period civilian construction is reduced or ceases altogether, with the result that when building resumes with the return to peace, it takes on a different character. The years from 1918 to 1940 were such a period in the United States, framed by the two world conflicts, but even so this was also a two-decade period that is divided almost exactly in half by an economic upheaval that was so catastrophic that the federal government had to become both client and funder to prevent absolute social collapse. So, although this period between the wars is one time period, it was nonetheless divided by the Great Depression into two diametrically different episodes. The first half, from roughly 1918 to 1930, is characterized by the expansive growth of private enterprise, nurtured by the precepts of the conservative ideology of the dominant Republican political party, while the second half, roughly 1930 to 1940, was the decade of the nation's most severe business depression, characterized by the emergence of a broad range of public welfare programs fostered by the more socially conscious Democratic Party, which struggled to put Americans back to work. The dominant public policies of the two decades could hardly have been more different; the first decade was concerned solely with the expansion of big business, and the second was concerned with remedial government programs for public benefit. These dramatic political and economic swings also had corresponding shifts in architectural trends: in the 1920s, traditional or, one might even say, escapist historical trends in private or corporate building were embraced, while in the following decade deliberately, though simplified, Modern expressions in public works were favored.
Download


Copyright Disclaimer:
This site does not store any files on its server. We only index and link to content provided by other sites. Please contact the content providers to delete copyright contents if any and email us, we'll remove relevant links or contents immediately.