All the Truth Is Out by Matt Bai
Author:Matt Bai [Bai, Matt] , Date: August 6, 2020 ,Views: 334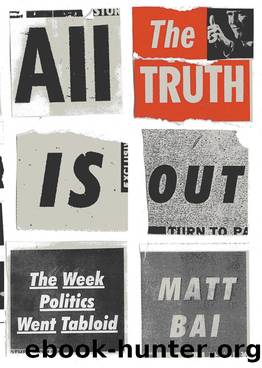 Author:Matt Bai [Bai, Matt]
Language: eng
Format: epub
ISBN: 978-0-385-35312-0
Publisher: Knopf Doubleday Publishing Group
Published: 2014-10-06T16:00:00+00:00



Taylor recalled that he and his colleagues also spent some time discussing the extreme difficulty of even reporting such a story. The two people having the affair wouldn't talk, and corroborating witnesses would be almost impossible to come by, and "most reporters don't want to be Peeping Toms." (As it turned out, of course, the operative word there was "most.")
And then there was the Woodward issue to consider. The way Woodward always told the story, yes, Hart had crashed at his place during his first separation from Lee, but it's not like they were acting out the Odd Couple or something; Hart was over at a girlfriend's most of the time and basically used Woodward's place as a forwarding address. After some weeks of this, Woodward grew uneasy and asked his buddy Gary to camp elsewhere, and that was the extent of it. Still, if everyone in Bradlee's office knew this story, that meant that half of Capitol Hill did, too. And if the Post ignored the constant gossip about Hart, and it later came to light that he was still fooling around, then the paper might face allegations that it essentially took a pass in order to spare Woodward's buddy—and perhaps even Woodward himself—any embarrassment.
It was Broder, the voice of experience and wisdom, who formulated a compromise. The Post would shortly be in the process of compiling its in-depth profiles of all the candidates, which by that time was a quadrennial rite. There was no need, Broder suggested, for the Post to start hunting around in every candidate's sex life just because the issue was swirling around Hart. What they needed to do was commence their exhaustive reporting on Hart's profile and see what came up. If the reporter assigned to the piece decided there was any troubling pattern of behavior when it came to women, something that called Hart's judgment or stability into question, they could figure out how to deal with it then.
"In ways that I thought were very inappropriate, the fact that he had a womanizing problem was becoming part of who he was as a candidate and now the front-runner coming into this next presidential campaign," Taylor reflected when we talked many years later. "I was very uncomfortable with that. And at the Post, we said, You know, we're not going to go there, and it's irresponsible to present it that way. It's rumormongering. But we can't close our eyes to the fact that that's part of the world we know very well—the journalists, the candidates, the consultants, the opponents, Hart's own staff. It's all part of their world. It's real, in that sense. It may well make its way into becoming part of this thing. So let's see what there is."
As it happened, the reporter assigned to do the Hart profile, the talented David Maraniss, was at that point wrapping up another assignment. He was just turning his sights on Hart when the Herald story hit.
Download


Copyright Disclaimer:
This site does not store any files on its server. We only index and link to content provided by other sites. Please contact the content providers to delete copyright contents if any and email us, we'll remove relevant links or contents immediately.