Against all odds : around alone in the BOC Challenge by Nebauer Alan
Author:Nebauer, Alan , Date: June 11, 2021 ,Views: 28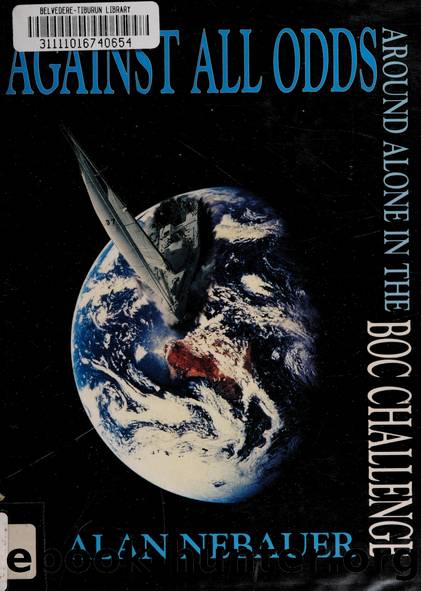 Author:Nebauer, Alan
Language: eng
Format: epub
Tags: Nebauer, Alan, Newcastle Australia (Yacht), BOC Challenge Race, Voyages around the world
ISBN: 0074703315
Publisher: Sydney ; New York : McGraw-Hill
Published: 1997-06-15T00:00:00+00:00



CHAPTER EIGHT
W HEN I left Bluff this leg of the race was now nine days old. Once again I found myself far behind my rivals in Class II, although it was good to be underway again. David Scully had left Bluff at around noon and he too was excited to be moving again; he followed me south down the coast of Stewart Island. He always seemed so cheerful, even when things were not going his way. Like mine, his stop in Bluff was the second stop he had been forced to make to repair faulty gear.
We spoke on the radio and David casually informed me that at that moment his wife Veronique was in labor in a Paris hospital having their second child. I could not believe how cool he was. Most of the fleet waited in suspense until the following morning when we found out that she had given birth to a daughter—Blanca.
Cape Horn was about 3800 miles away, a distance that I should have been able to cover in seventeen to twenty days. I was keen to catch up as I was now placed fifth in Class II. After about five hours with the wind flicking from all directions, the breeze finally settled in from the south-west building up until it was blowing 25 knots. Typically it was wet, gray and drizzly. I was depressed by my loss of time with the stopover but gradually I established a routine and I was encouraged by sailing fast again into the Southern Ocean. Before long it seemed as though I had never stopped and I began to concentrate on sailing the boat as fast as I could.
In the first 8 hours from Bluff I only covered 35 miles but at the end of 24 hours I had sailed 212 miles out of Bluff. I had even moved up one place in the fleet by overtaking Robin Davie on Cornwall. Robin was sailing the oldest boat in the fleet for his second BOC Challenge. He was not here
AGAINST ALL ODDS
to win but sailed the older style 40 foot (12.2 m) yacht remarkably well, maintaining a consistent average speed that I am sure he was proud of. Even though Cornwall is smaller and expected to be slower than Newcastle Australia , it certainly was an encouragement to move ahead of another boat—I felt like I was racing again.
That evening I was surprised to see a ship off my starboard side. I spoke to the officer on watch by VHF radio and he told me the ship was the US tanker Richard Jamieson en route to New Zealand from McMurdo Base in Antarctica, which they had been supplying with fuel. I could hardly believe him when he said that there were over 1200 people in residence at the base during the summer months—suddenly the Southern Ocean began to feel crowded. It was exciting to speak to him so far from any normal shipping lanes but I thought that he sounded blase, as if speaking to a person on a yacht below the fiftieth parallel was an everyday occurrence.
Download


Copyright Disclaimer:
This site does not store any files on its server. We only index and link to content provided by other sites. Please contact the content providers to delete copyright contents if any and email us, we'll remove relevant links or contents immediately.