Act of Valor by DICK COUCH & GEORGE GALDORISI
Author:DICK COUCH & GEORGE GALDORISI , Date: August 6, 2020 ,Views: 305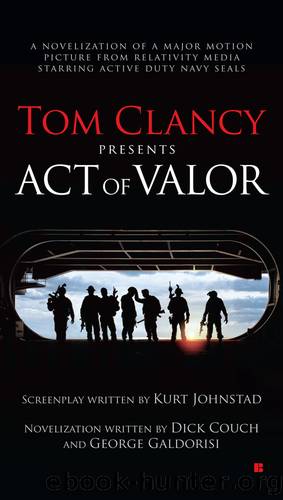 Author:DICK COUCH & GEORGE GALDORISI
Language: eng
Format: epub
Publisher: Penguin Group, USA
Published: 2011-12-09T16:00:00+00:00



SEVEN
"Oh, miss. I'll have another ginger ale if you don't mind?"
The flight attendant scowled at him, then headed aft. A moment later she returned with a plastic cup with clear bubbly and no ice. She all but dropped the cup on the generous armrest between the two passengers, slopping a little as she did so.
"And another bag of peanuts would be nice as well."
She returned with a handful of small packets and dumped them in his lap. "If there's anything else you need," she said, "you can damn well get it yourself," and she was gone.
"You always have to push it, don't you?" A.J. said to his seatmate. He was seated by the window, thumbing through the latest edition of the special-operations quarterly magazine, Front Sight Focus.
"Y'know," his companion replied as he mopped up the soft-drink spill, "you'd think that when you have your own airplane, you'd get treated with a little more respect."
"Your own airplane—yeah, right. Let me know if you're going to give the lady any more shit so I can move. The next drink order is probably going to get poured over your head, and I want no part of it."
Alfonso Joseph Markum and Ray Diamond were a study in contrast. A.J. was lean and compact, with smooth olive-colored skin and regular features. He had deep-set dark eyes that complemented thick, wavy hair, which he kept well-barbered and just slightly longer than regulation. His mixed lineage allowed him to pass for just about anything but white. There was a sense of effortless dignity to A.J. and an almost natural civility that often caused others to underestimate him. He was polite to a fault. Almost no one would take him for the capable martial artist that he was. When he moved, it was with economy and purpose, like someone with ballet training. And he could be deceptively fast.
Ray was taller and heavier, and bore the scarring of teenage acne that at best gave him a swarthy look. He had royal blue eyes and a James Coburn smile that seemed at odds with the gangland tattoos that covered both arms. He, too, was dark, but not as dark as A.J. His computer and IT skills aside, most of the Bandito SEALs, including his platoon officer and platoon chief, considered him something of a genius. He refused to speak of his past, and his service record listed his education only as a GED equivalent. Yet his military test scores were off the chart.
The two SEALs were traveling in an elevated style, at least on this leg of their journey. The analysis of the computer and cell phone they had obtained from the compound in Costa Rica had produced solid evidence of a terrorist plot. It had also yielded a date and a location in Somalia linked to the plot. This proved to be their only solid lead to what seemed to be plans for an attack on the American homeland. It was decided to send a team on a special reconnaissance mission to that location in Somalia.
Download


Copyright Disclaimer:
This site does not store any files on its server. We only index and link to content provided by other sites. Please contact the content providers to delete copyright contents if any and email us, we'll remove relevant links or contents immediately.