A Certain Magical Index: Apocrypha Archive - Volume 2 by Kazuma Kamachi
Author:Kazuma Kamachi [Kamachi, Kazuma] , Date: June 24, 2022 ,Views: 46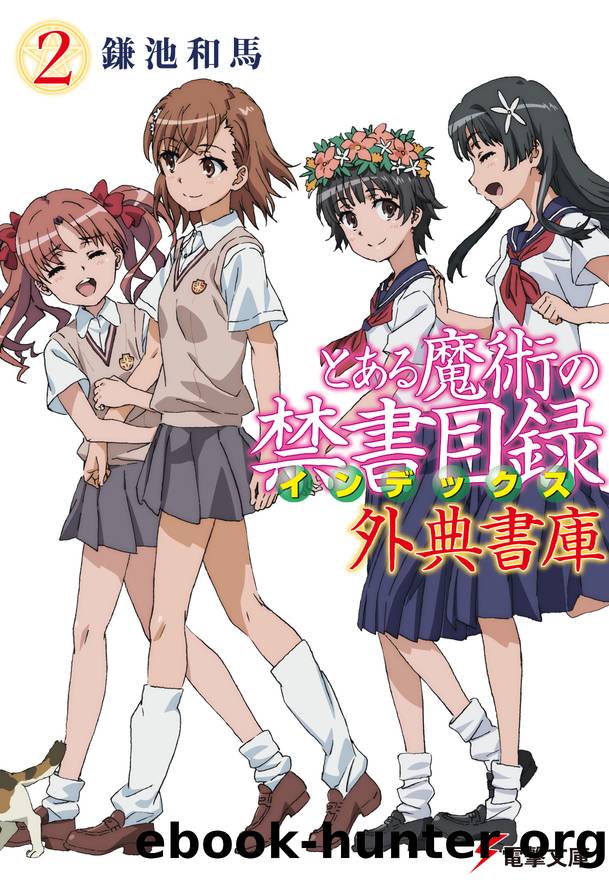 Author:Kazuma Kamachi [Kamachi, Kazuma]
Language: eng
Format: epub
Published: 0101-01-01T00:00:00+00:00



4
The two girls slowly continued through the pool heading around the outer edge of the facility and then snuck out the staff entrance.
Once they made it to the back alley, Mikoto had to face temporary embarrassment once more as she and Lancis changed. Once Mikoto was back in her school uniform and Lancis was back in her lacrosse uniform-like outfit, the latter girl spoke.
"Just to be safe, we should split up here."
"Good idea."
"Head north along that street and enter the building through the door on your left. Nihon Daruma will be right there. Since you've been there twice before, you should be able to recognize it."
"What will you do?"
"Unlike you, the security guards aren't searching for me, so I don't need to hide. Heading there normally without hiding will be the least suspicious course of action for me. I'll head right through the middle of the security guards and gather some information as I do. I should be able to tell whether they have realized you're here or not by how they're acting."
"Sorry for the trouble."
"I am in the service business after all."
After splitting up with Lancis, Mikoto headed to the occult convenience store by the shortest route. On the way, she was worried about her unnaturally wet hair drawing attention, but it seemed she was just being overanxious.
She reached the occult convenience store in the tenant area without any troubles.
She was naturally nervous.
As the sliding door opened, she heard bustling voices from within.
"Nyaah!! Ow! That really hurts!! Bayloupe, didn't they teach you in school that a girl's ass needs to be treated in a more seductive manner!? No matter how much you criticize me, my eyes aren't going to be 'opened to the truth'!!"
Mikoto peered inside the store and saw the person she was trying to find being held and spanked.
The person spanking Lessar was a tall girl with short silver hair.
"I've told you!! So many times!! Not to give normal people!! Unnecessary information!! Lessar!! From what I've heard while listening in on the security guards, that middle school girl fell right into the trap and is now forced to stay on the run!! That means part of the responsibility lies with us!! What part of that was 'for the sake of England'!?"
They were speaking in English.
And it was British English instead of American English.
"Um…" Mikoto cut in apologetically and the two convenience store workers looked her way.
Lessar was still being held by the girl with the silver hair and her teary face lit up.
"Nyaah! Nyaah! Help! Nyaah! Help!! Was my information helpful!? Please tell Bayloupe how helpful that postcard was!! She's the girl here who hopes to become a sadistic instructor!! If you do, she'll end this unfair torture!!"
"Hm? Are you the middle school girl our Lessar was causing trouble for?"
The silver haired girl had a nametag reading "Bayloupe" on her abundant chest.
Mikoto waved around the postcard she had gotten from Lessar.
"I followed this postcard you gave me and attacked Setali, but she turned out to be a surprisingly good person, so I came to get a refund.
Download


Copyright Disclaimer:
This site does not store any files on its server. We only index and link to content provided by other sites. Please contact the content providers to delete copyright contents if any and email us, we'll remove relevant links or contents immediately.