A Plot to Die For by C. A. Larmer
Author:C. A. Larmer [Larmer, C. A.] , Date: December 8, 2019 ,Views: 170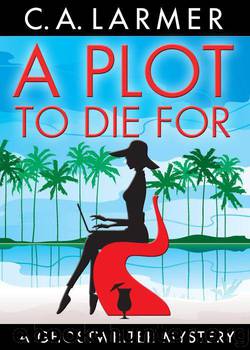 Author:C. A. Larmer [Larmer, C. A.]
Language: eng
Format: epub
Amazon: B006LABC8M
Publisher: Larmer Media
Published: 2011-12-12T00:00:00+00:00



Chapter 12
The sun tried to edge its way into the room through the slats in the shutters but wasn't having a lot of luck and Roxy smiled to herself as she glanced at the clock—7.05am—then turned over and went back to sleep. Sleep-ins were probably going to be the only silver lining of this terrible tragedy, but it was a silver lining nonetheless and she took the opportunity to stay snoring until 8.30.
Eventually, Roxy stepped into a shower and got ready for the day. Opening the shutters she discovered that whatever clouds were brewing had now blown away, so placed a swimsuit under a wide-belted skirt and top and went down to breakfast.
Mary was at her usual post, coffee pot in hand and Roxy waved her over as she took a seat out on the veranda.
"Some cooked breakfast for you today, Miss?" Mary asked hopefully and Roxy shook her head.
"No, I'll get a croissant in a moment. Can I ask you something?"
Mary looked surprised but nodded her head.
"Yesterday morning. What time did you start work?"
"Ah, six o'clock, Miss, I come and set up for breakfast."
"Of course, and did you happen to see the Zimmerman's about?"
"No. They usually come and get some fruit and bread and go again."
"But not yesterday?"
"No, Miss. Maybe they too busy!"
She laughed a little at this and Roxy smiled.
"So, did you see anyone else out and about early?"
Mary looked confused suddenly so Roxy said, "I guess I'm trying to piece it all together, in my head, you know? For Abi."
"Oh poor Miss Abi. Is very sad. All village very sad."
"Of course you all are. It's dreadful. So, anyone else beat me to breakfast?"
Mary didn't hesitate this time. "Yes, I tell police man yesterday, I see Joshua first—he come and get coffee and go again. Soon after I see Abi."
Roxy stared at her, stunned. "So you really did see Abi? When was that?"
"She walk through here, no look good, say she need fresh air. About quarter past six. I try to stop her, Miss. She look real bad. Tell me she been sick, ask me to clean her room. I tell her, no walk today, Missus! You go back to bed! But she no listen, she say she must walk today. Very important."
"Did she say that, 'very important'?"
"Yes." Mary hissed. "She too stubborn Miss Abi. But I should stop her, I should not let her go."
Roxy squeezed the local woman's hand. "Hey, it wasn't your fault, you weren't to know."
At that moment Doc arrived and Mary hurried off to attend to him while Roxy's brain started whirring into motion. She didn't need the forensics report to know, now, that Abi must have been killed some time between 6.20am, just after Mary had seen her, and 7.50am when Roxy had discovered the body. It was a relatively small window of opportunity, but a window nonetheless. And as far as she could tell there were at least a few people up and about at that hour. Not only were the villagers up then, so were the Zimmermans, and so was Joshua.
Download


Copyright Disclaimer:
This site does not store any files on its server. We only index and link to content provided by other sites. Please contact the content providers to delete copyright contents if any and email us, we'll remove relevant links or contents immediately.