Women of Amy Sherman-Palladino by Scott Ryan & David Bushman
Author:Scott Ryan & David Bushman [Ryan, Scott] , Date: March 26, 2020 ,Views: 204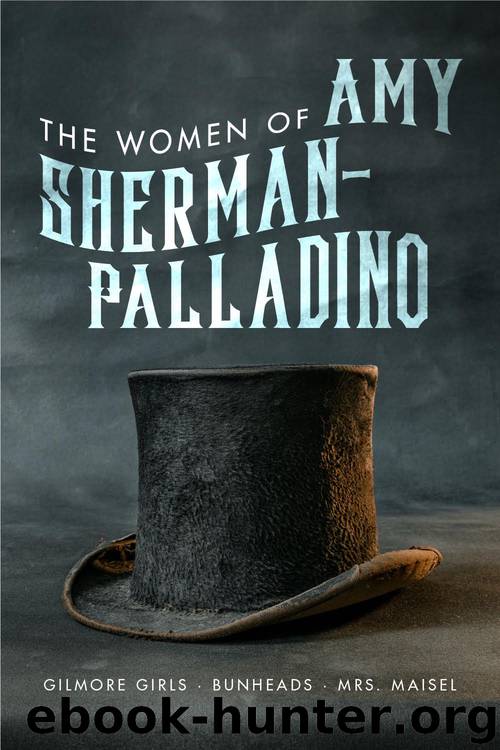 Author:Scott Ryan & David Bushman [Ryan, Scott]
Language: eng
Format: epub
Tags: Gilmore Girls, Mrs Maisel, Bunheads, Lauren Graham, Sutton Foster, Amy Sherman-Palladino, Mrs. Maisel Season 3, Rachel Brosnahan
Publisher: Fayetteville Mafia Press
Published: 2019-03-14T16:00:00+00:00



"One day, you shall father my child, but right now you are single-handedly destroying my good-girl vibe." (photo courtesy of Warner Bros.)
After basking in our combination of schadenfreude and self-hatred for so long (there really should be a German word for that, too), we realized that we actually deeply love Rory in those moments. That's because Rory Gilmore isn't likable at all except in these moments, when she's weak or brash or impulsive.
But young Rory always seemed to bounce right back to good-girl territory. You run off to see your hot crush Jess in New York and then you ground yourself? Your boyfriend's family calls you trash and
you . . . become their star intern? Homegirl STOLE A BOAT and then she . . . joins the Daughters of the American Revolution? How the . . . why . . . huh? Rory, babe, you okay?
But now, at thirty-two, Rory has learned that being good gets you nowhere.
She's stuck now, like really in the shits, and that's precisely how we know that Rory is going to figure it out, like we did. Let go of the good girl. It's better to be aggressive. To be loud. To be more Lorelai and more Emily (perhaps the wiliest character of all). To shout. To know that actually, perfect grades aren't that great and maybe subterfuge and craftiness are sometimes the real answer. To maybe wear something that has a neckline ranging beyond "turtleneck." To smoke a cigarette (JUST ONE, YOU'LL LIVE). To vape. To not call someone back. To have a few too many drinks because you want to and not just because some guy broke your heart. To primal scream and get your horoscope read and flake off work to get a massage. To chase down a source for an investigative story that you're scared to write but know you were meant to.
Make fewer lists. Send a pitch to Jezebel. Have a drink. Don't be the assistant (unless it's a strategic stepping stone that lasts less than a year). Maybe go to Europe without your mom or your grandma. Or how about go to Malaysia. Ghana. Uzbekistan. Don't just take the red-eye to London to sleep with your preppy rich college boyfriend Logan on 1000-thread-count sheets and then have tea at the Dorchester.
Download


Copyright Disclaimer:
This site does not store any files on its server. We only index and link to content provided by other sites. Please contact the content providers to delete copyright contents if any and email us, we'll remove relevant links or contents immediately.