We Are Proud Boys by Andy B. Campbell
Author:Andy B. Campbell [Campbell, Andy] , Date: September 23, 2022 ,Views: 99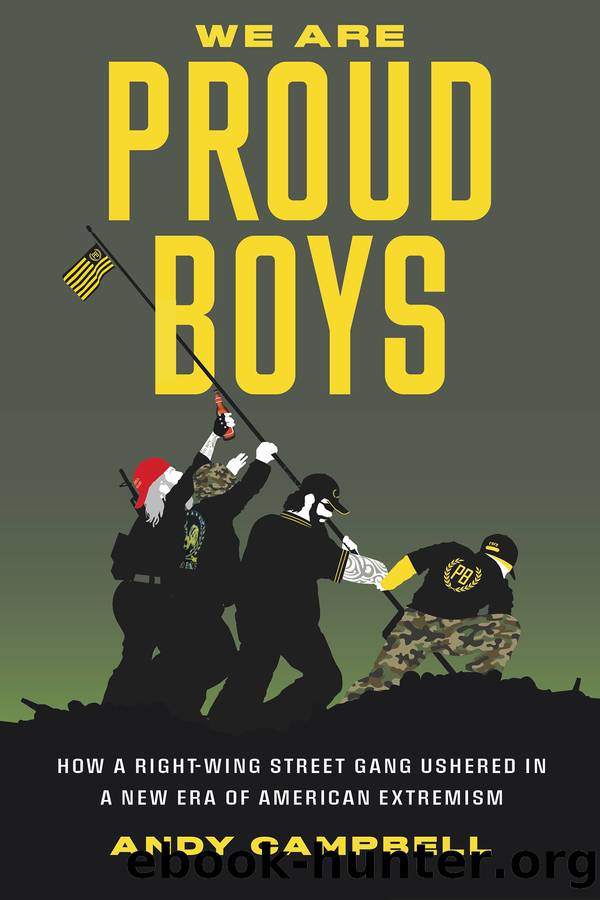 Author:Andy B. Campbell [Campbell, Andy]
Language: eng
Format: epub
Publisher: Hachette Books
Published: 2022-10-04T00:00:00+00:00



THE PRESS, IN a perfect vacuum, is supposed to be an unbiased overseer, one who has the ability to extract the truest truth from any story and whose own opinions have zero bearing on the narrative. If only it were that easy.
The press bears similar responsibility when interacting with the Proud Boys and other extremist groups but with different implications. Instead of being the arbiters of physical violence, the media has significant control over their ability to disseminate and sanitize their ideology for the masses and promote themselves. And just like police, members of the media play a variety of important roles in the ongoing survival of the Proud Boys: some cast light on the threat they pose and the damage they cause, some embrace them and promote them as allies, and others become hapless pawns in the gang's promotional efforts, whether due to ignorance or negligence or any number of other factors.
Reporting on modern extremism is a difficult and ever-evolving dance, one that we're still building best practices for. The press' job generally boils down to seeking out and reporting the most fair and accurate depiction of events possible, in service of the public interest. But in extremism land, the route toward that goal isn't always clear. This is a different kind of journalism, in which the subject is actively trying to wrest control of the narrative and distort it for personal gain.
Take the Proud Boys, a violent political street gang that very much does not want to be presented that way to the public. So they make themselves available to the media for interviews, and relentlessly push their own version of the narrative—that they're not a violent gang but a patriotic men's drinking club—with the hope that someone, anyone, will parrot their talking points uncritically. Some outlets see through it and make note of all the violence or recognize that their leader very clearly describes them as a violent gang on his podcast, and refuse to allow the Proud Boys to define themselves. But eventually, the "men's club" half-truth makes it into a news article or TV interview and further assists the Proud Boys in pushing misleading characterization, whether an outlet means to or not (Forbes, for example, once described them as "a provocative club for men who love America but hate political correctness while vehemently denying any connection to the alt-right").
Another pitfall of extremism reporting comes with the "both sides" mentality. Traditional journalism asks reporters to keep an unbiased posture, seek out as many perspectives as possible, and give each of them equitable space so that the audience walks away with a deep understanding of the topic. There's merit in using that strategy as a guideline. But when it's employed as an immovable tenet (as it often is in mainstream media), it can impede good journalism, especially when people with harmful and dehumanizing worldviews are involved. Not every issue requires debate, and not all perspectives deserve a platform. There's a big difference between, say, a story that
Download


Copyright Disclaimer:
This site does not store any files on its server. We only index and link to content provided by other sites. Please contact the content providers to delete copyright contents if any and email us, we'll remove relevant links or contents immediately.