Trick Play: A rival's little sister college sports romance by Jerica MacMillan
Author:Jerica MacMillan [MacMillan, Jerica] , Date: June 11, 2021 ,Views: 28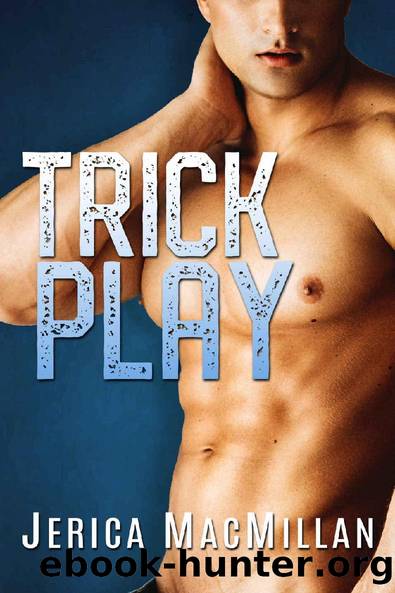 Author:Jerica MacMillan [MacMillan, Jerica]
Language: eng
Format: epub
Published: 2021-05-19T18:30:00+00:00



Piper: Sorry. I just don't want to rub Gray's nose in anything.
Unfortunately, I do. But I'll respect her wishes. It's enough that Gray knows now, at least as far as I'm concerned.
Me: You're forgiven. But I expect you to make it up to me later.
Her eyes widen and find mine when she sees my response, and I give her a sexy smile. "Tonight," I mouth.
Her cheeks turn just a little pink, and the girl she's talking to looks around, her eyes landing on me, clearly putting together that something's going on between us.
Good. If some random chick can figure it out, anyone with eyeballs surely can. And that's all I need.
Glancing around, I see there's an empty spot on the couch next to my sister, so I go and claim it, ignoring her squawking protests.
With a rumbly chuckle, Simon picks her up and deposits her on his lap. "Better?" he asks her.
Huffing and glaring at me with annoyance, she nods. "Yes. Now Cal won't elbow me in the head, at least."
Simon drapes his arms around her and resumes his conversation. I poke her knee. "You having fun?"
She widens her eyes and looks around the room, laying a hand on her chest dramatically. "Moi? Are you actually speaking to me? In a room full of your friends and teammates?" She leans forward, perching on the edge of Simon's leg so she can place the back of her hand on my forehead. "Are you feeling alright? Do you have a fever? Do you need Tylenol?"
I swat her hand away, rolling my eyes. "I'm fine. Stop it. I can't talk to my sister?"
She leans into Simon, who adjusts her casually, her eyes narrowed as they bore into me. "You never have before."
I scoff. "I've talked to you plenty of times."
"Not in front of your friends you haven't. Not even at the other parties and things I've been to with Simon and you. You'll talk to him. You'll talk to other people in front of me. But you still never acknowledge me. So you'll have to excuse me if I'm a little surprised."
I think over the few weeks since she and Simon told me about their relationship and got back together. I mean, I know I didn't really talk to her at parties before that. Or when I did, it was to try to make her leave, which I readily admit was a dick move. I thought I was trying to keep her safe, out of the way of asshole frat dudes and my teammates who can sometimes be just as bad. But Simon's right. She's safer here with us where we can keep an eye on her. It helps that she's dating one of the biggest guys on the team. And while he's not naturally violent, dude knows how to grapple and take someone down if need be. That's literally his job on the football field.
Shaking my head, I pat her foot. She's taken her shoes off and just has her rainbow striped socks on.
Download


Copyright Disclaimer:
This site does not store any files on its server. We only index and link to content provided by other sites. Please contact the content providers to delete copyright contents if any and email us, we'll remove relevant links or contents immediately.