The Year's Best Science Fiction: Twelfth Annual Collection by Gardner Dozois
Author:Gardner Dozois , Date: July 20, 2020 ,Views: 95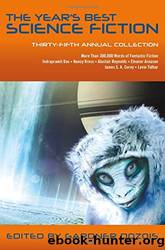 Author:Gardner Dozois
Language: eng
Format: azw3, mobi, epub
Tags: Science Fiction, Collections & Anthologies, Anthologies (Multiple Authors), Fiction
ISBN: 9781466829510
Publisher: St. Martin's Publishing Group
Published: 1995-06-15T11:48:01.826000+00:00



As the senior of the expedition's two astronauts, Anastasia Dezhurova was technically second-in-command to Jamie Waterman. She saw to it that her main duty was the communications center, where she could watch everyone and everything. As long as she was watching, Dezhurova felt, nothing very bad could happen to her fellow explorers.
The dome was quiet, everyone busy at their appointed tasks. Dezhurova could see Waterman outside, doggedly chipping still more rock samples. Trudy Hall was in her lab working with the lichen from the Grand Canyon; the only other woman among them, Vijay Shektar, was in her infirmary, scrolling medical data on her computer.
"Rodriguez to base," the astronaut's voice suddenly crackled in the speaker. "I'm making a dry run over the landing area. Sending my camera view."
"Base to Rodriguez," Dezhurova snapped, all business. "Copy dry run." Her fingers raced over the keyboard and the main display suddenly showed a pockmarked, boulder-strewn stretch of bare rock. "We have your imagery."
Dezhurova felt her mouth go dry. I'd better call Jamie back into the dome. If that's the landing area, they're never going to get down safely.
Download


Copyright Disclaimer:
This site does not store any files on its server. We only index and link to content provided by other sites. Please contact the content providers to delete copyright contents if any and email us, we'll remove relevant links or contents immediately.