The Wrath Walker (The Wrath Series Book 1) by Matthew Newson
Author:Matthew Newson [Newson, Matthew] , Date: April 9, 2021 ,Views: 29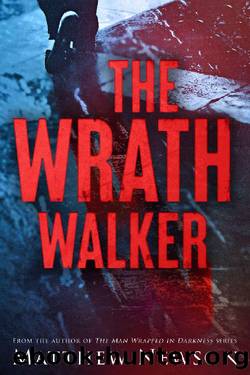 Author:Matthew Newson [Newson, Matthew]
Language: eng
Format: epub
Tags: suspense
Publisher: Matthew Newson
Published: 2021-04-07T16:00:00+00:00



Chapter Fourteen
Brandon Farmer
The Black Castle
AFTER I FOUND MY OLD Bible, I read the story of Sodom and Gomorrah repeatedly after Wrath disappeared from the hallway, but there wasn't a part of the story that struck me as the key to stopping Wrath's murderous rampage. I took several pages of notes on the story that night, but I was still unable to connect any dots before I tried getting a few hours of restless sleep. I knew Wrath was a killer and nothing more, but I still found myself intrigued by the guy and his wild story about his origin. Even though it made no sense whatsoever, the man still possessed abilities that seemed to be from another world. However, he still wanted to kill me for a reason I had yet to determine, and how he was able to lump me in with the Amaras was beyond my detective skills.
I got out of bed around eight the next morning, and quickly got ready for the day. I rescheduled all my clients that week and moved them to the next, so I could focus all my efforts on what had been placed before me. Besides, I couldn't find any cheating spouses if I was a dead man. I packed my notebook and a couple of pens in my backpack, grabbed my gun, and tucked it into my waist before I went outside. I had to remember to leave the gun in my car because the Black Castle was government property, and it was considered a felony to carry a gun into government buildings unless I was law enforcement. The humid air smacked me in the face as soon as I stepped out of my building. I wondered if the Spring would ever cool back down, and then I figured we were in for a hotter than normal summer. I got into my car and started to make the drive to the Black Castle. I listened to the audio version of the story of Sodom and Gomorrah as I drove, hoping for something to stick out to me, but nothing did.
When I pulled into the parking lot of the building our town was named after, I marveled at the massive structure. The castle stood at an impressive five stories tall, with giant windows set into every floor that ran across the structure. The attached six story tower on the right of the castle had a massive clock installed at the top. The bell could be heard throughout most of the city at the top of every hour. The grounds were meticulously cared for by the city, and citizens were fined if caught walking across the grass. The bushes at the front were already in full bloom, as I watched the bees jump from flower to flower, and then dive bomb people as they walked out of the building.
It was almost hard to believe that the now Black Castle had only been what remained of an old castle that had burned up a long time ago, and no one really knew what had caused the fire.
Download


Copyright Disclaimer:
This site does not store any files on its server. We only index and link to content provided by other sites. Please contact the content providers to delete copyright contents if any and email us, we'll remove relevant links or contents immediately.