The Team That Managed Itself by Christina Wodtke
Author:Christina Wodtke , Date: June 28, 2020 ,Views: 160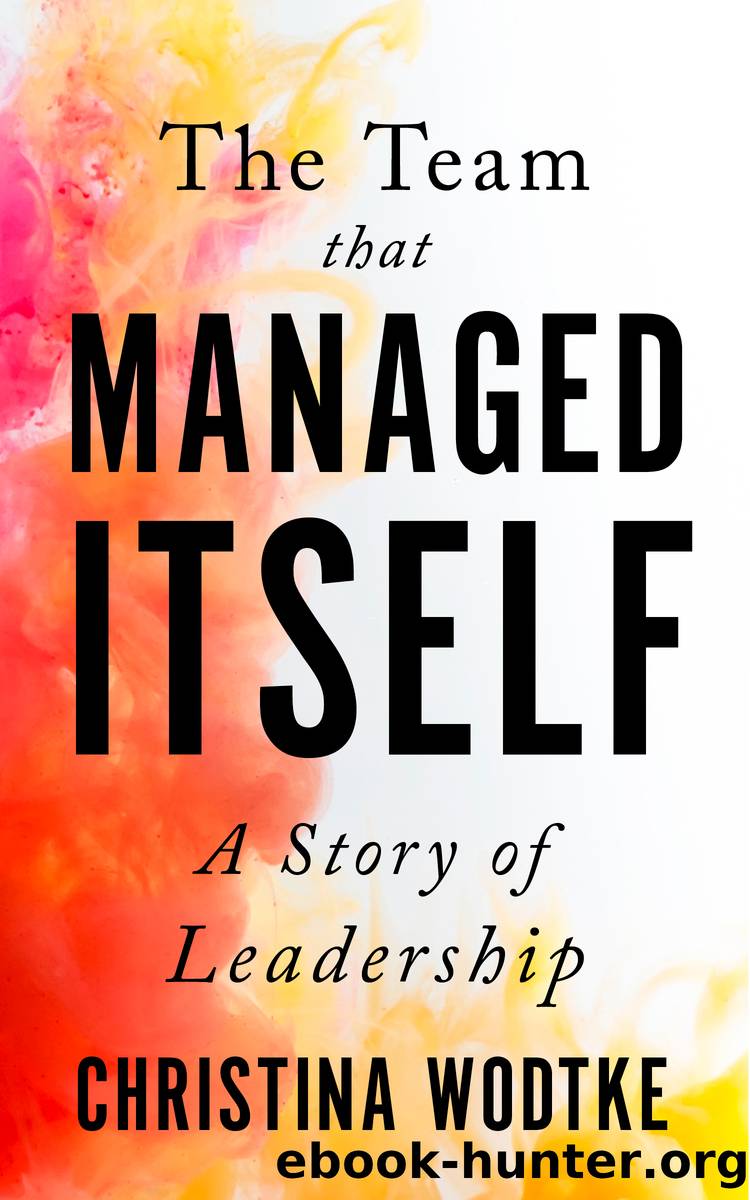 Author:Christina Wodtke
Language: eng
Format: epub
Publisher: Christina Wodtke
Published: 2019-10-10T00:25:45+00:00



Christie's Big Idea
The meeting to discuss Christie's vision was at two p.m. in Sonic. It had been two months since Christie's Advent Calendar had launched, and Allie was itching to launch the next big thing. But she trusted Christie too much to push her.
Christie had claimed the small conference room as her war room and covered the glass front with paper. The sign on the door said "Top Secret" and had a whimsical drawing of an angry hedgehog shaking a finger at the viewer. Don't mess with Sonic.
Allie walked in. Inside, every bit of wall was covered with drawings, writing, and photos. There were pictures of players, notes from playtesting, endless flowcharts, and diagrams. There were concept sketches, printed out and thus losing a bit of their vivid colors. The whiteboard was a mass of circles, boxes, arrows, and utterly incomprehensible handwriting. It certainly looked impressive.
But bad ideas could come in shiny packages. Allie stayed cautiously optimistic but skeptical. The perfect emotional state for a general manager, she felt. Ready to be dazzled or for everything to go to hell.
Christie came dashing in, her laptop open in her arms, cradled like a baby. Emma, one of the artists, followed her. Emma was a quiet Chinese woman, a recent graduate of the art school down the street. She rarely spoke, but if it was shyness about her English or just shyness, Allie didn't know. Then she thought about Carlton.
"Hey, did you invite Carlton?"
"I'm sure . . ." Christie said, not sounding sure.
"I'll grab him. He should start getting caught up."
Allie walked over to the art team and tapped Carlton on the arm. He looked up from his laptop and blinked at her.
"If you are free, we're going to look at a new event Christie's been working on with Emma . . ."
"Of course!" he said brightly.
When they returned to the room, Christie had her laptop connected to the projector and was ready for the pitch. They sat down and Emma dimmed the lights.
The door opened and Jheryn popped in. He was the tech advisor, there to make sure all concepts were buildable. "Sorry I'm late," he mumbled, and pulled up a chair.
Christie started. "After the Advent calendar bold beat, we realized there was an untapped desire for freeform creation." She showed slides of the some of the landscapes created on the Advent canvases. "It was our most successful bold beat so far, by an order of magnitude." She showed a chart; Advent had outperformed the strongest release half again. "And the bulk of that growth was driven by freeform creative play."
"Which led us to CountyFair. This is not an event. This will be an expansion."
Allie sat up. Events were important, but expansions . . . were rare. It was almost like creating a new game. They took longer to make, and they had about the same chances of being successful as a new game. Though considering how successful QuiltWorld had been, it made sense. Like making a sequel to a hit movie.
Download


Copyright Disclaimer:
This site does not store any files on its server. We only index and link to content provided by other sites. Please contact the content providers to delete copyright contents if any and email us, we'll remove relevant links or contents immediately.