The Responsive City by Stephen Goldsmith
Author:Stephen Goldsmith [Goldsmith, Stephen] , Date: June 27, 2020 ,Views: 158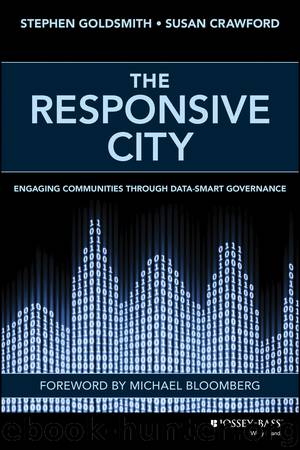 Author:Stephen Goldsmith [Goldsmith, Stephen]
Language: eng
Format: epub
ISBN: 9781118910931
Publisher: Wiley
Published: 2014-10-20T00:00:00+00:00



Chapter Five
The Responsive Employee
In 2011, a blizzard of complaints from residents living on Manhattan's Second Avenue fell on the shoulders of Lolita Jackson, then a special projects officer in the New York City Mayor's office. The city's Metropolitan Transportation Authority had stepped up its work on its decades-old plan to build a subway under the avenue, beginning with a mile-and-a-half stretch from 64th to 96th streets. More than seventy years had passed since the last time new subway lines were built in New York, and citizens weren't prepared for or happy about what they had to endure. Noise, debris, and obstructions closed one small shop after another in the construction zone, infuriating residents. So did the sudden lack of parking due to an influx of parked cars owned by workers involved in the construction.
Meanwhile, scaffolding blocked streetlights from illuminating the sidewalk. Garbage trucks looked for trash bags in their usual locations, oblivious to the fact that construction had blocked off those sites, and so they didn't pick up the waste. The actions of city enforcement agents, doing their jobs as required by specific performance criteria, rubbed salt on people's wounds: sanitation officers issued tickets to local businesses for failing to pick up construction workers' garbage, and traffic officers ticketed delivery trucks forced to double-park by the construction.
The city's street-level workers were doing their jobs exactly as required by their work rules—which meant severely limiting their ability to use common sense by taking individual circumstances into account. After a tour of the area, the deputy mayor of operations (Goldsmith) placed Jackson in charge of addressing these problems. She quickly launched into action, naming people to a cross-agency group that walked once a week through affected areas to speak with business owners, observe conditions, and provide immediate help where possible. This group also met weekly at city hall to identify and possibly preempt issues.
As a result of her fact finding, Jackson soon improved trash removal with changed routes and specially built bins. She also changed lighting on the avenue, improved signage around the work sites and worked with the firms building the tunnel to mitigate neighborhood complaints about their employee parking.
Every one of Jackson's solutions increased the trust and patience of the community for the loud, dusty, ongoing construction. That, in turn, had a measurable impact on the quality of life on Second Avenue: business closures in the construction zone plummeted. In the place of what we call wholesale government—one size fits all, one rule applies always—Jackson had delivered a more flexible, personal, retail version of municipal service. Her approach was personal and oriented toward customer satisfaction. She made the resident, not the rule, her priority.
Urban government needs more responsive employees like Lolita Jackson, oriented toward commonsense solutions for real people rather than adherence to a culture of rule-bound government that was new in 1890. One of the reasons we believe that the digital revolution in governance will make such a difference is that it will help find, equip, empower, and even create more public servants like her.
Download


Copyright Disclaimer:
This site does not store any files on its server. We only index and link to content provided by other sites. Please contact the content providers to delete copyright contents if any and email us, we'll remove relevant links or contents immediately.