The End: A Reverse Harem Bully Romance (Raven River Academy Book 3) by Ruby Vincent
Author:Ruby Vincent [Vincent, Ruby] , Date: June 11, 2021 ,Views: 32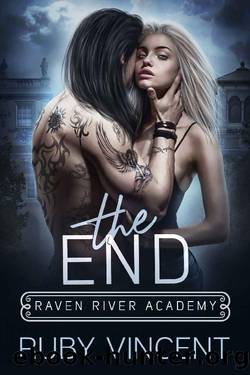 Author:Ruby Vincent [Vincent, Ruby]
Language: eng
Format: epub
Publisher: Ruby Vincent
Published: 2020-08-05T16:00:00+00:00



CASSIUS WAS A WARM blanket of comfort and safety. I tangled up in his bed that night, happily playing the part of little spoon. Clay sat up in his bed reading.
"Today was the longest day of my life," I announced. "From Brandon to FBI agents. I'm glad to be horizontal right now."
Cassius nuzzled my neck. "I know what will make you feel better."
"I'm always down to pound, Cas, but tonight I'm exhausted."
He laughed. "I'm not always after sex, Em."
"Really? Since when?"
He nipped my ear. "Trying to lose your present?"
I giggled. "Nope. Present, please."
Cassius vaulted off the bed, opened his minifridge, and held up a bottle of cream soda and Nerds.
"Aww. You do love me."
I accepted my treats, not wasting time downing half the bottle on the spot. The sweet, fizzy drink eased my tension.
"We saw Brandon as they carried him out of the nurse's office. Nicely done, baby," said Cassius. "What's going to happen to him?"
"They're going to arrest him. I'll tell Eli the good news in the morning." Cassius placed a pillow on my lap and stretched out on me. I ran my fingers through his hair, mind drifting to something else we needed to talk about. "How are your folks?"
"Mom is still at home," Clay spoke up. "We've been sending suggestions to her but now she's saying she can't choose until she visits the place. Most of them are out of state. It won't be easy."
"I'm going to the clinic on Saturday. I'll drop by the house and try convincing her in person," Cassius told me.
Clay dropped his book on the nightstand. "Let's watch a movie. Em's earned a break to eat her weight in sugar and just relax."
"I'm slowing up on the sugar," I said with a laugh. "Just one bottle for me. I'll save the Nerds for later."
The boys got up and pushed the beds together. We went back and forth on movies until we settled on Now You See Me. Action-packed for the boys but with some lightness and humor for me.
I rested my head on Clay's chest and secured Cassius's arm over my hip. "I love being the filling in a Walker sandwich."
"That sounds crazy dirty," said Cassius. "You trying to get something going because I thought you were too tired?"
I swatted his thigh. Cassius's vengeance was swift. He jumped on top of me and tickled me breathless into the sheets. It took a while to calm down and get into the movie. We laughed, joked, tore apart the tricks, and for a stolen pocket of time I was a normal girl basking in attention from the boys I loved.
The next morning, I dressed in my room and then returned to the boys' hall to knock on Royal's door.
"Morning." I pecked him on the lips. "I figured I'd make your stalking duties easy and invite you to the court with me and Eli. We're getting some tennis practice in."
"It's not stalking when you're mine."
"I should be curbing this possessive streak, but I really like being yours.
Download


Copyright Disclaimer:
This site does not store any files on its server. We only index and link to content provided by other sites. Please contact the content providers to delete copyright contents if any and email us, we'll remove relevant links or contents immediately.