The Death of Idealism by Meghan Elizabeth Kallman
Author:Meghan Elizabeth Kallman , Date: June 30, 2020 ,Views: 125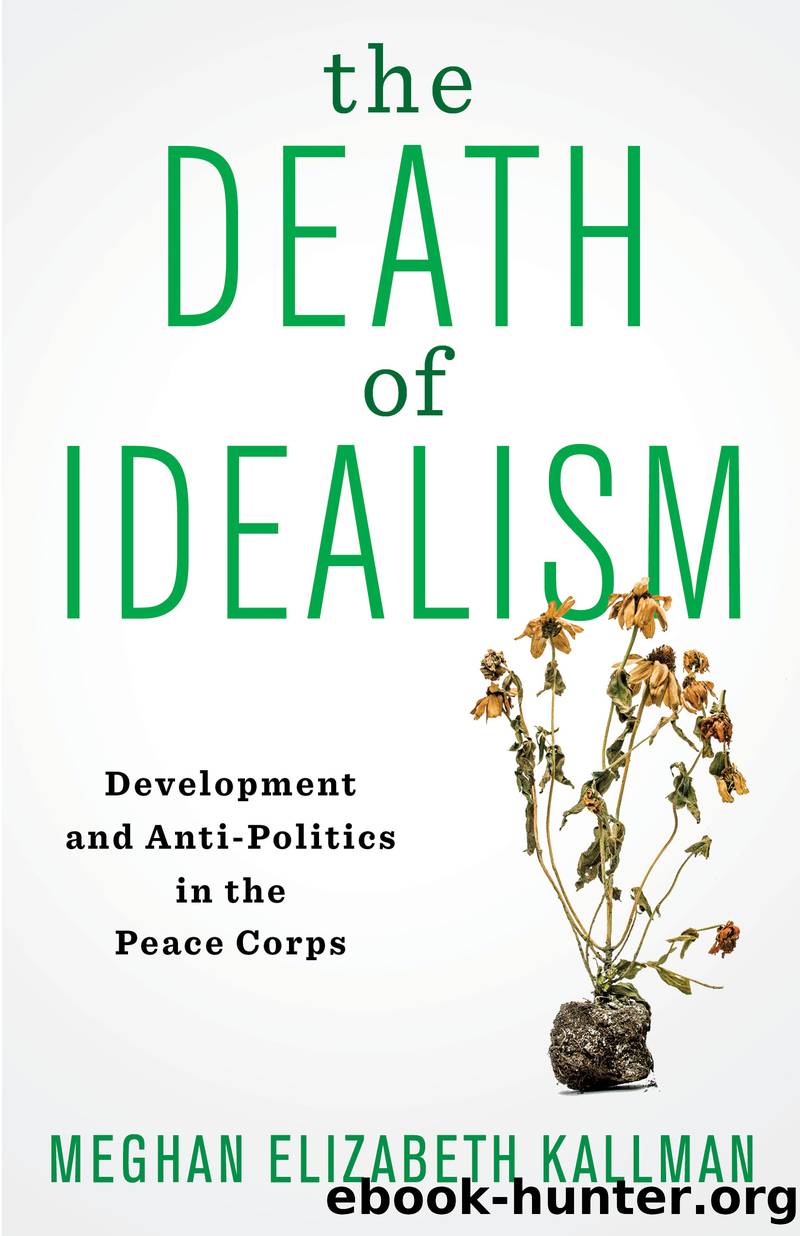 Author:Meghan Elizabeth Kallman
Language: eng
Format: epub
Publisher: Columbia University Press



COLLECTIVENESS AND CRITICAL UNDERSTANDING: WHEN IT WORKS
If the previous section laid out the ways in which much of the Peace Corps can impede the development of a collective identity, collaboration, and engagement with large political questions, one of my field sites offered a compelling example of the integrative outcomes that can occur when the organization fosters more self-reflection.
I conducted several weeks of ethnographic fieldwork in a European country whose program was a standout from the Peace Corps norm. Here, the Peace Corps distinguishes itself: whereas the attrition rate among Peace Corps volunteers generally is quite high—24 percent in 2012—the attrition rate in this country office was less than 4 percent at the time of this study. During my visit to a midservice language training, I was presented with a powerful example of what can happen when an organization does create space for introspection and connection and actively cultivates a sense of purpose and a richer political understanding.
I had accompanied Peace Corps staff out to a retreat weekend. We had traveled by bus approximately four hours outside the capital city to the retreat space, in a shabby hotel shrouded by banks of snow. It was fiercely cold outside, and the capital city, in the days before our departure, had been racked by unrest. Tanks had been rolling down the main streets as we drove out of town, their olive-drab paint seeming slightly surreal, like something out of a movie. My first morning at the retreat, I encountered the country director—a man I have called Matthew—lugging his cross-country skis in the door around 7:30 A.M., chatting with a group of volunteers after his morning constitutional. He was cheery and reassuring.
At the formal convening of the training later that day, a local staff member welcomed the volunteers in English: "You are our heroes!" she exclaimed. "It's cold outside, snowing, and there's [political unrest] and still you're here." I wrote in my notes: "[Peace Corps staff] make a bit of a show of the welcome, an introductory speech about gaining new motivation in their language and in their work, hoping that the training will contribute to optimism, leadership, a will to continue living here, as well as new friends."
By the end of the training, it seemed that most of those aspirations were achieved. The weekend began by cultivating a sense of purpose and intention among those in the room. There was a "town meeting" before classes started each day, in which staff made announcements in the local language, and volunteers interpreted (reflective of a heavy emphasis on participation throughout). There were announcements of daily activities: a movie screening, a discussion of the daily news, a joke/story swap with an emphasis on vocabulary, a debate over what the state language should be (itself a highly political question that asked the volunteers to consider and explore a critical debate in the country). Throughout the course of the training there were prizes for language acquisition, tastings of jam that volunteers had made, and panels on developing fundraising skills.
Download


Copyright Disclaimer:
This site does not store any files on its server. We only index and link to content provided by other sites. Please contact the content providers to delete copyright contents if any and email us, we'll remove relevant links or contents immediately.