The Circular Economy by Stahel Walter R.;
Author:Stahel, Walter R.; , Date: March 6, 2020 ,Views: 196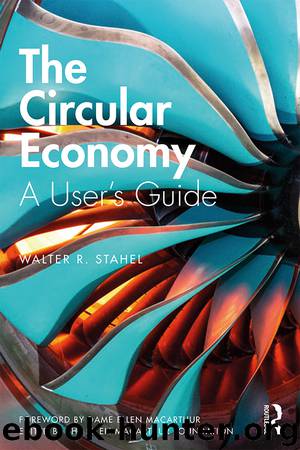 Author:Stahel, Walter R.;
Language: eng
Format: epub
Publisher: Taylor & Francis (CAM)
Published: 2019-03-05T16:00:00+00:00



6.3 The point of sale: pivot for ownership and liability
At the point of sale, ownership and liability for use and end-of-life are transferred from producer to buyer, except for a warranty covering manufacturing defects during a limited period of time. Ownership of objects includes the right to reuse or remarket, the right to repair or upgrade – or to dispose of. The owner of the object controls the object's use and decides how long the object will 'live', and what 'R' services, do-it-yourself skills and such social schemes as repair cafés will be used to extend an object's service-life. A caring attitude and access to operation and maintenance (O&M) services of high quality are important, because with increasing product-life, O&M quality becomes more important than manufacturing quality.
The ownership–liability link is questioned by the digitalisation of the economy and the Internet of Things. For smart and autonomous goods, ownership tends to be split between hardware and software, with the producer of the software moving into the driver seat. For a number of reasons, such as quick revenues, manufacturers like Apple and John Deere still sell the hardware (smartphones and tractors) but refuse to give their customers access to the source codes and algorithms of the software, which would enable them to repair the technical systems and control and extend their service-life. If producers want to have the cake and eat it, curtailing the property rights of the system owner-user and aborting the service-life of objects, the ownership issue is fuzzy.
When ownership of the physical good is transferred, but ownership and control of the software is retained by the manufacturer, a conflict arises. This violates the circular industrial economy principle 'if you can't repair it, you don't own it', which means that producers should have no ownership rights on hardware and software after the point of sale. This situation has led to a 'right to repair' issue, which in 2018 was being fought in US courts by Kyle Wiens, CEO of iFixit.com, on a number of fronts. The company has not won any battles yet, but in 17 US states legislation has started to move, with iFixit gaining ground.1
EU Member States ruled at a 7 January 2019 meeting that spare parts for refrigerators have to be replaceable with the use of commonly available tools and without damaging the product. They also voted that spare parts be available for at least seven years, with parts such as door gaskets and trays available to end-users, and thermostats and temperature sensors available only to professional repair technicians; professional technicians have to receive access to repair information.
Selling smart goods exclusively as a service in the Performance Economy, with ownership and liability for both hard- and software remaining with the producer, avoids these issues (Chapter 8).
Download


Copyright Disclaimer:
This site does not store any files on its server. We only index and link to content provided by other sites. Please contact the content providers to delete copyright contents if any and email us, we'll remove relevant links or contents immediately.