THE COMMON READER (The 1925 Edition) by Virginia Woolf
Author:Virginia Woolf [Woolf, Virginia] , Date: March 23, 2020 ,Views: 253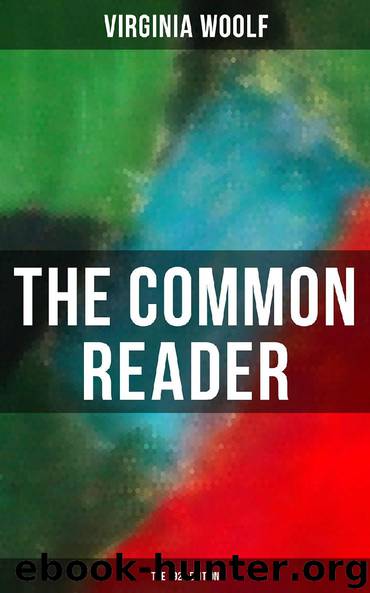 Author:Virginia Woolf [Woolf, Virginia]
Language: eng
Format: epub
ISBN: 9788027236091
Publisher: Musaicum Books
Published: 2013-07-01T00:00:00+00:00



II LAETITIA PILKINGTON
Let us bother the librarian once again. Let us ask him to reach down, dust, and hand over to us that little brown book over there, the Memoirs of Mrs. Pilkington, three volumes bound in one, printed by Peter Hoey in Dublin, MDCCLXXVI. The deepest obscurity shades her retreat; the dust lies heavy on her tomb—one board is loose, that is to say, and nobody has read her since early in the last century when a reader, presumably a lady, whether disgusted by her obscenity or stricken by the hand of death, left off in the middle and marked her place with a faded list of goods and groceries. If ever a woman wanted a champion, it is obviously Laetitia Pilkington. Who then was she?
Can you imagine a very extraordinary cross between Moll Flanders and Lady Ritchie, between a rolling and rollicking woman of the town and a lady of breeding and refinement? Laetitia Pilkington (1712-1759) was something of the sort—shady, shifty, adventurous, and yet, like Thackeray's daughter, like Miss Mitford, like Madame de Sévigné and Jane Austen and Maria Edgeworth, so imbued with the old traditions of her sex that she wrote, as ladies talk, to give pleasure. Throughout her Memoirs, we can never forget that it is her wish to entertain, her unhappy fate to sob. Dabbing her eyes and controlling her anguish, she begs us to forgive an odious breach of manners which only the suffering of a lifetime, the intolerable persecutions of Mr. P–-n, the malignant, she must say the h–-h, spite of Lady C–-t can excuse. For who should know better than the Earl of Killmallock's great-granddaughter that it is the part of a lady to hide her sufferings? Thus Laetitia is in the great tradition of English women of letters. It is her duty to entertain; it is her instinct to conceal. Still, though her room near the Royal Exchange is threadbare, and the table is spread with old play-bills instead of a cloth, and the butter is served in a shoe, and Mr. Worsdale has used the teapot to fetch small beer that very morning, still she presides, still she entertains. Her language is a trifle coarse, perhaps. But who taught her English? The great Doctor Swift.
In all her wanderings, which were many, and in her failings, which were great, she looked back to those early Irish days when Swift had pinched her into propriety of speech. He had beaten her for fumbling at a drawer: he had daubed her cheeks with burnt cork to try her temper; he had bade her pull off her shoes and stockings and stand against the wainscot and let him measure her. At first she had refused; then she had yielded. "Why," said the Dean, "I suspected you had either broken Stockings or foul toes, and in either case should have delighted to expose you." Three feet two inches was all she measured, he declared, though, as Laetitia complained, the weight of Swift's hand on her head had made her shrink to half her size.
Download


Copyright Disclaimer:
This site does not store any files on its server. We only index and link to content provided by other sites. Please contact the content providers to delete copyright contents if any and email us, we'll remove relevant links or contents immediately.