Sunrise at Strawberry Farm: As delightfully delicious as strawberries and cream, this is the perfect summer romance to read in 2020. by Kellie Hailes
Author:Kellie Hailes [Hailes, Kellie] , Date: July 6, 2020 ,Views: 145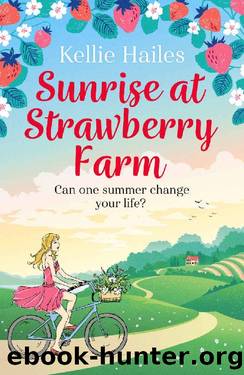 Author:Kellie Hailes [Hailes, Kellie]
Language: eng
Format: epub
ISBN: 9781398700024
Publisher: Orion
Published: 2020-05-24T18:30:00+00:00



CHAPTER THIRTEEN
Hannah swiped her handkerchief over the back of her neck then mopped her face. If she didn't know better she'd have thought the sun was making the picking crew even more grateful for the last day of the season before they opened up to the public by causing them to sweat out every drop of moisture in their bodies and sending them home with sunburn, despite the copious amounts of sunscreen they'd applied.
'Slowing down there, Han? What kind of example are you setting for the rest of us?'
Hannah replied to Matt's teasing by sticking out her tongue and crossing her eyes, earning a hearty laugh in return.
'Fair enough. Looking forward to a cold beer at the end of all this. I've heard the end-of-season bash your family puts on is a good time.'
'What's this about a good time?' Amethyst sidled up to Matt and bumped her hip against his. 'And remind me again why I thought helping out in the fields would be fun?'
Hannah smiled to herself. If she was not mistaken there was a hint of flirtation in the air. Sweeter than the scent of strawberries, and far juicier.
Looking at Matt and Amethyst, with their sparkling air of attraction, it was hard to imagine that at one point she'd thought Amethyst and Grey could've been a thing. Had hoped for it. Now all she felt was relief it hadn't happened. Out of all the mistakes she'd made in her life, wanting those two together would've been the greatest.
Because where would that have left you?
She batted away the honest truth that flickered through her mind. Hoping for her and Grey to be anything more than tentative friends was out of the question. He'd shown no interest, and with her departure now two days away, it wouldn't be right for her to pursue anything more.
'A good time is what people experience when they spend time with me.' Matt returned Amethyst's hip bump and added a wink. 'I can't believe you've deigned to work amongst us mere mortals. And I can't believe it took you as long as you did to be honest about who you were with me. What did you think I'd do? Call the paparazzi? Try and seduce you?'
Hannah snorted at the put-out look on Matt's face. He'd nearly fallen off his seat the previous night over at Grey's when they'd all been chatting over a drink and Amethyst had decided to take her wig off for the night and reveal her true identity.
'What can I say? This real work keeps me grounded. And I was bored with hiding away at Grey's. Also, you already were trying to seduce me, in the way that you try and seduce anything that has two legs and a working brain – you're a terrible flirt.' Amethyst worked her fingers under the wig and gave her head a scratch. 'God, I can't wait to get back to real life, though. As fun as slumming it with you lot has been, this wig is driving me nuts.
Download


Copyright Disclaimer:
This site does not store any files on its server. We only index and link to content provided by other sites. Please contact the content providers to delete copyright contents if any and email us, we'll remove relevant links or contents immediately.